With just a few days left for the official release of the Samsung Galaxy S3, the design of the South-Korean model spotted hints a different design. The folks at Mobile Phone Blog have obtained a photo of the Galaxy S3, suggesting the device to be the South-Korean LTE version with a completely new design.
"Apparently the LTE version of the Galaxy S3 will be headed to Korea, but due to the LTE radios being incompatible with Samsung's quad-core processors, they will be swapping it out for dual-core processors and at the same time giving it a face lift," claims Ubergizmo.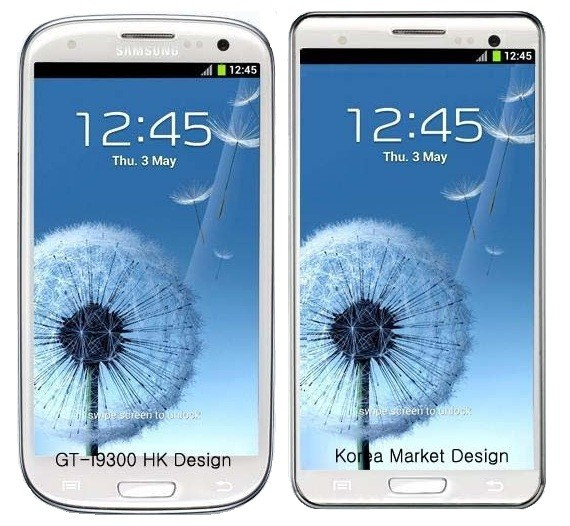 The surfaced photo suggests that the Korean version of the Galaxy S3's screen is slightly bigger than the original Samsung smartphone. However, there is no official announcement from the company. Hence, it should be taken as pinch of salt.
The Galaxy S3 packs plenty of special features, like Smart Stay, Direct Call, Smart Alert, S Voice and Social Tag. Its Smart Stay lets the phone to stay awake when it senses a user is looking at it. The Direct Call appears to be quite exciting - if the user is reading a message and would like to talk to the sender, he/she must just lift the phone to his/her ear and the Galaxy S3 will automatically dial the number. S Voice seems to be clear competitor for Apple's Siri. In addition, it features NFC, which is used to share the content by simply tapping the device together.
The Samsung smartphone appears to draw lot of attention from tech enthusiasts. As D-day draws closer, the Galaxy S3 is making its rounds via internet. Moreover, according to earlier reports in IBTimes UK, the Korean giant has announced the launch of pop-up stores starting 29 May in London. The Korean giant is set to launch four pop-up stores, starting with the first two Samsung Mobile PINs will open at Westfield Shephard's Bush and at Old Spitalfield's Market, while the other two pop-up stores in Hyde Park and within the Olympic Park.