Samsung has announced that the Galaxy S3 smartphone - due to be announced on 3 May - will be powered it's own Exynos 4 Quad processer, a quad-core 1.4GHz chip based on technology from the Cambridge-based ARM Technologies.
The Korean company claims that the new chip is twice as powerful as its predecessor but manages to draw 20 percent less power from the battery by cleverly managing the consumption of each core to maximise battery life.
Vice president of device solutions at Samsung, Tawhoon Kim, said: "The quad-core processor offers phenomenal multitasking abilities surpassing any single or dual application processor. Since all the cores must share a single battery, the power management and efficiency in the limited battery capacity are indispensable for mobile computing devices."
Dubbed the Exynos 4 Quad, the chip is based on ARM's Cortex A9 CPU and Samsung has announced that it is "already in production" and "is scheduled to be adopted first into Samsung's next Galaxy smartphone that will officially be announced in May. Samsung's Exynos 4 Quad is also sampling to other major handset makers."
The news comes after yet another leaked photo claiming to be of the upcoming Galaxy S3 hit the tech blog after appearing on Chinese mobile forum Mobile1.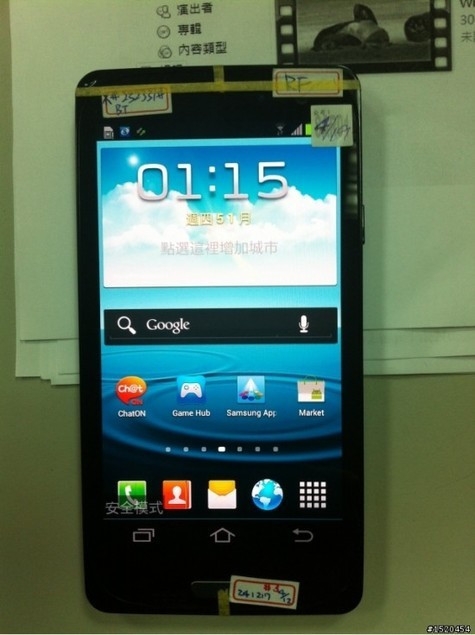 As a Vietnamese video demonstrating a Galaxy S3 prototype explained last week, it is impossible to confirm the final design of the S3, as the leaked prototypes are all apparently wearing generic cases to hide what the production model will look like.
Either way, these most recent images show that the prototype has a physical home button, capacitive buttons at the foot of the screen and dual LED flash on the back.
On Wednesday UK retailer Carphone Warehouse accidentally listed the Galaxy S3 in the 'upcoming' section of its website, along with a small image depicting a black smartphone. The listing was pulled soon after.
Aside from the processor announcement, all that Samsung has said officially is that there will be a media event on 3 May - which IBTimes UK will be attending - and the company has released a teaser trailer.
The Korean company launched a 24-hour countdown timer on Sunday at the website http://www.tgeltaayehxnx.com/ (which is an anagram of 'The Next Galaxy') and when the clock hit zero at midday on 23 April, we were greated with the trailer, below:
While giving very little away, the trailer speaks about a place where "truly smart technology becomes a natural part of life." The video ends with a crowd of sheep which is a fairly thinly veiled dig at all the iPhone users out there, a common target for recent Samsung adverts.