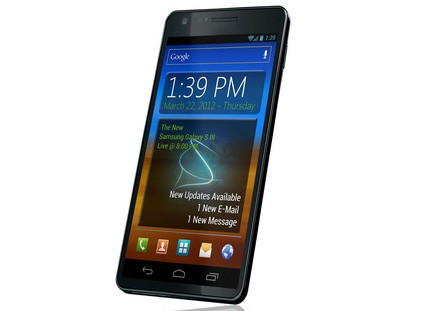 Samsung released a teaser trailer on Monday for the next Galaxy smartphone, believed to be the iPhone-rivalling Galaxy S3, ahead of a media event scheduled for 3 May.
The Korean company launched a 24-hour countdown timer on Sunday at the website http://www.tgeltaayehxnx.com/ (which is an anagram of 'The Next Galaxy') and when the clock hit zero at midday on 23 April, we were greated with the trailer, below:
While giving very little away, the trailer speaks about a place where "truly smart technology becomes a natural part of life." The video ends with a crowd of sheep which is a fairly thinly veiled dig at all the iPhone users out there, a common target for recent Samsung adverts.
Since Samsung announced a 3 May press conference for London where journalists were invited to "Come and meet the next Galaxy" speculation has been growing aobut what the new phone(s) will feature.
Over the weekend, a listing on Amazon's German site, spotted by the BestBoyz.de website, and which was quickly pulled from the website, lists the Galaxy S3 as smartphone with a 4.7in Super AMOLED screen, 16GB of storage, a microSD card slot and a 12 megapxiel camera.It is unclear if Amazon has been given some advance notice about the specs of the Asmsung Galaxy S3 or if it is simply speculating.
The phone is priced at €599 (£491) which seems about right for Samsung's flagship smartphone.
Last week Samsung sent out press invitations, asking journalists to "Come and Meet the Next Galaxy." The South Korean manufacturer also made a statement earlier this week to say that all leaked images of the S3 have been "not even close" to the real thing.
However a video leaked online, and subsequently pulled from the web following a legal request from Samsung, showed someone using what was said to be a pre-production model of the S3.
That video claimed the phone would have a 4.6in screen with an HD resolution of 720 x 1,280. It was running Android 4.0 (Ice Cream Sandwich), had a 1.4GHz processor, 1GB of RAM and like the Amazon listing 16GB of internal storage along with a microSD card.
Samsung is likely to maintain its secrecy about the features of the Galaxy S3 until 3 May in London when theIBTimes UK will be on hand to bring you all the details as they are announced.