The Samsung Galaxy S3 boasts of striking features like Smart Stay, Direct Call, Smart Alert, Social Tag and S Voice. It is powered by a 1.4GHz Cortex-A9 quad-core CPU and Exynos 4212 quad chipset. Trak.in calls the Galaxy S3 the "first Android to be the most powerful device on earth". As such, much is expected of the S3, including a strong challenge to Apple's iPhone series.
Benchmark tests conducted by AnandTech and reported on by an earlier IBTimes UK report agreed with Trak.in's assessment. Those tests however have been contradicted by a new test from AnTuTu, conducted by GSM Arena, which reveals the Meizu MX smartphone as a surprisingly able competitor to the S3. This test was conducted with the S3, the HTC One X and the Meizu. Interestingly, the Meizu is also powered by Samsung's Exynos A9 quad-core processor. The processor will reportedly have a clock speed of 1.5GHz which includes four ARM Mali graphics cores.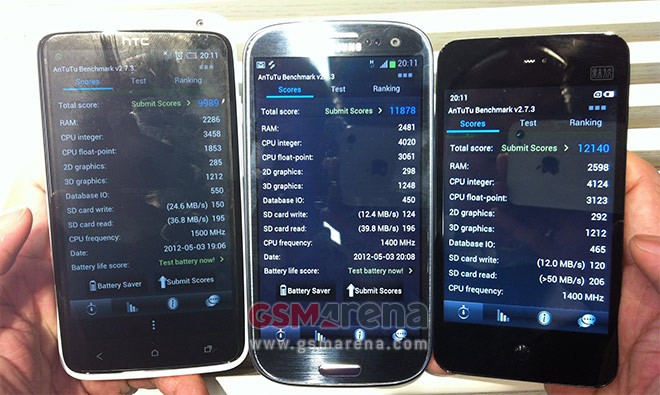 The AnTuTu benchmark test recorded the Meizu MX scoring 12,140, while the S3 only managed 11,878 and the HTC One X 9989.
The Meizu clearly outshines its more illustrious brethren, both in terms of CPU and memory speed. The higher results could be due to the Meizu's processor that clocked in at a 1.5GHz, which is high when compared to the Galaxy S3's 1.4GHz CPU according to SoyaCincau.
However, the S3 did fight back to win the graphics contest. The Galaxy S3, which is powered by a Mali 400 MP GPU, allows better handling of multi-core scheduling and performance scaling within the graphics system. Moreover, according to ARM, with support for 2D vector graphics and 3D graphics, the Mali 400 MP will offer a complete graphics acceleration platform. Hence, the powerful GPU has performed well in making the Galaxy S3 winner in terms of graphics.
The final analysis - The Android Soul suggests the S3 has little to worry about, since the Meizu MX is not going to be available in most parts of the world.