Plenty of rumours are doing the rounds about Samsung's next flagship smartphone which has been presumably called Galaxy S3. The first Galaxy teaser disappointed tech fans because it did not reveal any exciting information. Finally, the Korean giant has dropped hint about its next Galaxy which will be the Galaxy S3, with the new Unpacked app.
The app is available on Google Play; it allows the user to get the information on Samsung mobile unpacked events anytime as well as to learn about its new product launches. The app will provide the schedule of the event which includes date, time and place for the upcoming event. If tech enthusiasts cannot attend the event in person then they can simply watch the live telecast anywhere with the app. Users can also find official press releases on the latest product. It offers Unpacked Live which will be available during the event and can also be replayed.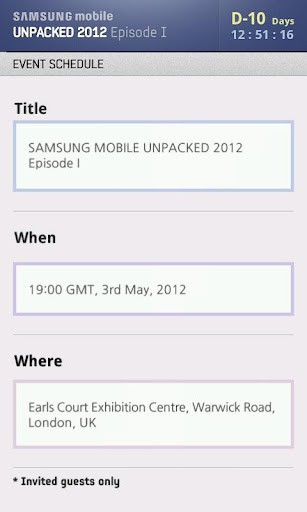 However, the Galaxy S3 launch event has become a thing of excitement and speculation. The company could be trying a way to guide Samsung fans to the app by making use of most common search terms since enthusiasts were perhaps at the peak of their excitement and expecting something big from Samsung.
Over last few days there has been considerable talk about Samsung's Galaxy S3. This is the first time we have seen something close which confirms the name of the smartphone. Possibly the company could be trying to draw the attention of Samsung fans to the app by using S3 as a keyword.
Yet, the naming is uncertain since the invitation sent out to the press claims "Come and meet the next Galaxy." Samsung fans can expect to get detailed information of the Samsung smartphone in the launch event which will be held on 3 May in London. The device could be named Galaxy S3, next Galaxy or Galaxy S2+.
Recently a video has been leaked on a Vietnamese website which shows a pre-production model of the S3. It claimed that the smartphone would come up with a 4.6in screen with a HD resolution of 720 x 1,280. In addition, it was running on Android 4.0 Ice Cream Sandwich operating system with 1.4GHz processor, 1GB of RAM and 16GB of internal storage with a microSD card.
However an 'accidental' listing on Amazon's German website claimed the Samsung Galaxy S3 will have a 4.7in Super AMOLED screen, 16GB of storage, a microSD card slot and a whopping 12 megapixel camera. Additionally, it was priced at €599 (£490) before the listing was removed.