Key Features:
5.1in screen
2560 x 1440 resolution, 577ppi
16-megapixel rear and 5mp front cameras
Wireless charging
64-bit processor with DDR4 RAM
Samsung Pay (in US and S Korea at launch)
Available from 10 April
32/64 and 128GB storage options
Hours after HTC showed us the One (M9), it was Samsung's turn to show its hand, revealing the Galaxy S6 and curved Galaxy S6 edge.
Both flagship Android phones, it is the S6 edge which will capture the most attention for its display, which curves around the left and right edges of the handset. Samsung has pulled this trick before, with the Galaxy Note Edge last year, but that only featured one so-called 'edge display'.
Samsung also made the first official mention of Samsung Pay, a wireless payments system which uses the Galaxy S6 and S6 edge in a similar way to Apple Pay and the iPhone 6.
Announced at the company's Unpacked event in Barcelona on the eve of the Mobile World Congress technology show in the same city, both models of Galaxy S6 represent the birth of a new design language for the company's S range.
New, metal design
Borrowing from the metal-framed Galaxy Alpha and Note 4, the S6 and S6 edge feature chamfered metal edges, blended with the familiar glossy plastic front, lozenge-shaped home button and chrome speaker grill.
Samsung says the glass is 50% stronger than "other high-end smartphones" and, in a not-so-subtle dig at Apple said the new phones "will not bend."
The phones' glass body, made from Corning Gorilla Glass 4, is available in White Pearl, Black Sapphire, Gold Platinum, Blue Topaz and Green Emerald.
The Galaxy S6 measures 143.4 x 70.5 x 6.8mm and weighs 138g. The S6 edge measures 142.1 x 70.1 x 7mm and weighs 132g.
The profile pictures of favourite contacts can be stored on one of the edge displays, and the display lights up a different colour for each contact when they call - so when the phone is placed face-down, you can see who is calling. Calls can be refused by pressing your finger against the rear-mounted heart rate monitor.
Ahead of the curve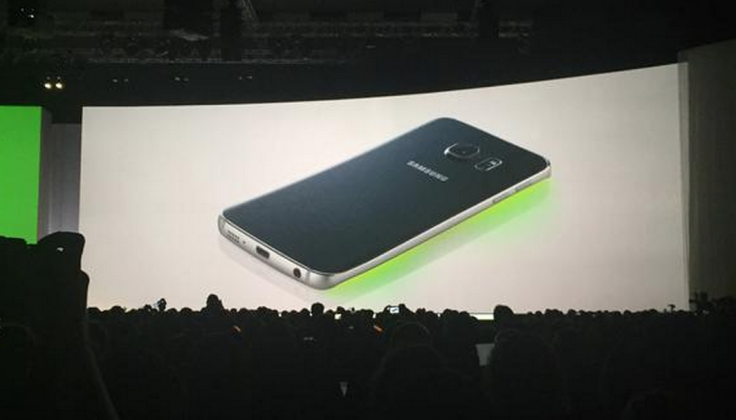 Wireless charging
Both handsets have built-in wireless charging - handy, given this week Ikea announced it will start selling furniture with integrated Qi wireless chargers from April.
Samsung says the Galaxy S6 can charge enough to give four hours of use in just 10 minutes. Charging is said to be 1.5 times faster than last year's S5. Following HTC, Apple and Sony, Samsung has finally switched to a non-removeable battery, but claims now is the right time to do so, and that its rivals made the charge too early.
Display
The Galaxy S6 and S6 edge has a 5.1in screen - the same as the Galaxy S5 - but has double the resolution up from 1920 x 1080 to 2560 x 1440 - that gives a pixel density of 577 per inch, which is 77% greater than the S5.
Simpler software
Samsung has worked to simplify its TouchWiz software, stripping away gimmicks and replacing confusing icons and symbols with words and labels.
An example of this is in the camera app, which has been stripped back to offer a simple list of functions - manual controls are hidden in an extra menu, should you want them.
A change from the Galaxy S5 is the S6's fingerprint scanner, which is now operated with a press instead of a swipe - hopefully this will make the system a more reliable way of unlocking the phone.
Camera
Both models of S6 have a 16-megapixel camera with optical image stabilisation on the back and a 5MP sensor on the front. The camera is always on standby, so a double-click of the home button makes the camera ready in just 0.7 seconds - a feature we first saw on the Huawei Ascend P7 last year.
With F1.9 lenses on the front and back cameras, the new Galaxy phones can capture more light than many others - Samsung claim they take far better low-light images than the iPhone 6 and 6 Plus.
Processor
Samsung has given the S6 and S6 edge its own 64-bit processor which is said to be 20% faster than the Galaxy Note 4, while being 35% more power efficient. There is also next-generation DDR4 RAM.
Andy Griffiths, President, Samsung Electronics UK and Ireland said: "With the all new Galaxy S6 and Galaxy S6 edge, Samsung is offering what's next in mobility, along with a new standard to drive the global mobile agenda."
He went on to say: "By listening to our customers we continuously push forward new technologies and ideas. With a reimagined design, robust partner network and novel services, the Samsung Galaxy S6 and Galaxy S6 edge do just this, offering users two completely differentiated products that deliver the ultimate in smartphone options."
Full specs for the Galaxy S6 and S6 edge are shown below: