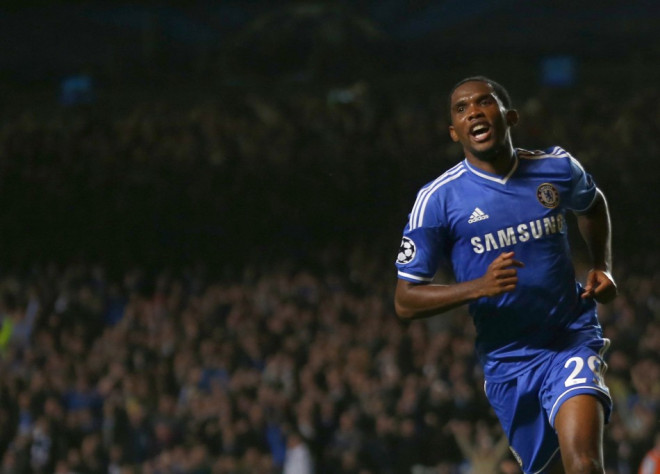 Samuel Eto'o has talked down Chelsea's chances of winning the Premier League this season by backing Jose Mourinho's opinion the Blues are in a transitional season.
Chelsea beat Everton 1-0 in their latest game with a last-gasp John Terry goal in injury time to maintain their lead at the top of the Premier League, with Arsenal one point off and Manchester City three points behind.
Mourinho has insisted several times this season that despite Chelsea's good run, Arsenal and Manchester City were favourites to clinch the title. Asked about his team's chances in an interview with the Chelsea official website, Eto'o said: "We players believe that it is possible (to win) but at the same time it is not our mission"
"We have never thought that we can't win the title, but Jose Mourinho came to Chelsea to do big things for the long run which he is trying to do."
Eto'o, who has scored six goals in 17 Premier League appearances, was close to scoring the opener against Everton but goalkeeper Tim Howard stopped him twice and it was Terry's goal that gave Chelsea the three points.
The Cameroonian striker is relieved with their victory as he believes Roberto Martinez's side was the best they have played against at Stamford Bridge this season.
"It was an extremely difficult game because we faced, I believe, the best a team that has played at Stamford Bridge this season. We won the match but it was very complicated because Everton have lots of very good players and they play nice football. We trained practically every day last week in preparation for this match because we knew how difficult it would be," Eto'o added.
"In the end we scored at a very important moment and it showed we always fight to the end of the match to change the result in our favour. You have to believe that from the first second to the last second of the game something can happen, and we scored in the third minute of additional time which allowed us to get the win. That's football. The most important thing was to win and we did that."
After their crucial Premier League victory, Eto'o claims Chelsea was now focusing on beating Galatasary next Wednesday in the first-leg of the Champions League's Last 16.
"Right now we are not thinking about other teams or the end of the season, we are just focused on our next game and that is Galatasaray."