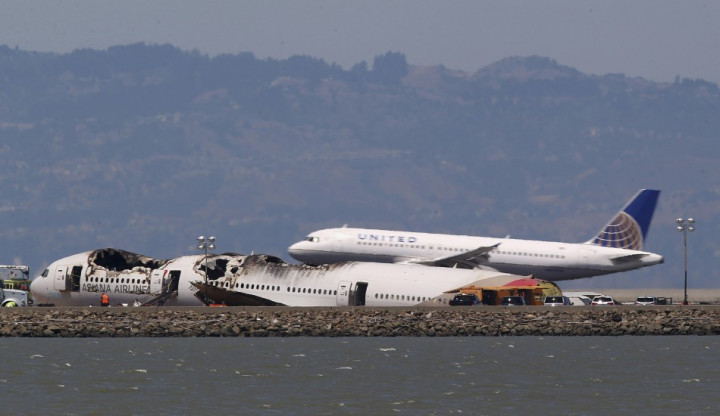 Two flight attendants miraculously survived a crash-landing in San Francisco after they were thrown from the plane as it hit the tarmac.
The pair were sitting in the rear of the Asiana Airlines Boeing 777 when it broke up after colliding with a sea wall and crashed on the runway.
"They were found down the runway and off to the side," National Transportation Safety Board chairman Deborah Hersman said.
The attendants were taken to hospital with serious injuries.
Two teenage girls were killed in the crash at San Francisco Airport. The bodies of Wang Linjia and Ye Mengyuan, both 16, were also found on the runaway.
It is believed that one of them survived impact but was run over by a rescue vehicle.
"One of our fire apparatus may have come into contact with one of our two victims," fire chief Joanne Hayes-White, adding: "We are looking closely at this." Police are also investigating.
Fire crews rushed to the scene to help the 307 people on board get to safety. Some were trapped inside the burning wreckage.
"We were running out of time," San Francisco Fire Department lieutenant Dave Monteverdi said of the rescue of an old man who was jammed in his seat on the plane.
"The smoke was starting to get thicker and thicker. We stood him up and amazingly, he started shuffling his feet. We were able to get him out and he was pretty much the last person off the plane."
Automated cockpit equipment
More than 180 people were injured when the plane crash-landed.
Investigators said the pilots of the Asiana Flight 214 relied on automated cockpit equipment during landing but realised too late they were flying in too low and too slow.
Hersman revealed the pilot, identified by Korean authorities as Lee Gang-guk, was only about halfway through his training on the Boeing 777.
It was also the first time Lee was landing such aircraft at San Francisco Airport. Co-pilot Lee Jeong-Min was on his first trip as a flight instructor.
Hersman warned against drawing early conclusions about the cause of the crash.
South Korea aviation authorities have launched inspections of eight airlines and may review safety standards.
"After the inspection, we will go through various specialists' reviews and come up with a comprehensive measure with regards to air safety," said Choi Jeong-ho, head of South Korea's Aviation Policy Bureau.
"We will also discuss rules regarding training flights, if needed. However, this does not imply that we see a problem with our current rules".