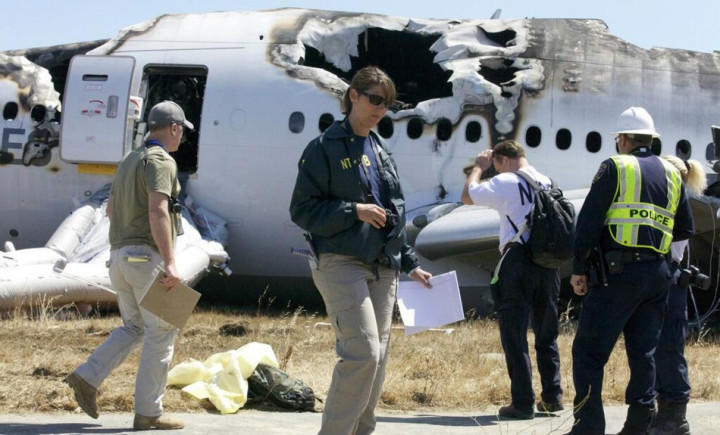 Lee Kang-kook, the pilot of the Boeing 777 which crash-landed at the San Francisco International Airport, was still \"in training\", it has been disclosed.
South Korean airline Asiana said that although Lee Kang-kook had nearly 10,000 hours\' experience flying other aircraft, he had flown Boeing planes for just 43 hours prior to the crash on 7 July.
This was also the first time Lee had attempted to land the Boeing 777 in San Francisco.
America\'s National Transportation Safety Board (NTSB) said the pilot attempted to abort the landing and \"go around\" just two seconds before the plane smashed into the runway.
Two passengers, both Chinese, were killed in the incident while dozens of others were injured.
\"We have to take another look at the raw data and corroborate it with radar and air traffic information to make sure we have a very precise speed. But again, we are not talking about a few knots here or there. We\'re talking about a significant amount of speed below 137,\" said NTSB chief Deborah Hersman.
Hersman insisted that nothing can be ruled out, saying that \"everything is on the table\". When pressed whether pilot error could have caused the crash, Hersman said: \"What I will tell you is that the NTSB conducts very thorough investigations. We will not reach a determination of probable cause in the first few days that we\'re on an accident scene.\"
Lee was assisted by another pilot who was experienced in handling Boeing 777. This is the first time the aircraft has been involved in a fatal accident since it entered the market in 1995.
The data gathered from the cockpit\'s voice recorder and the flight data recorder indicate the flight was on normal course until seven seconds before the impact.
A stall warning was activated four seconds before the crash, shaking the cockpit controls and prompting the crew to attempt to abort the landing. The airline has ruled out technical glitches as the probable cause.
Meanwhile, one of the dead could have been run over by an emergency vehicle, authorities said.
\"One of the deceased did have injuries consistent with those of having been run over by a vehicle. Many agencies were on the field yesterday,\" fire department spokesperson Mindy Talmadge told Reuters.