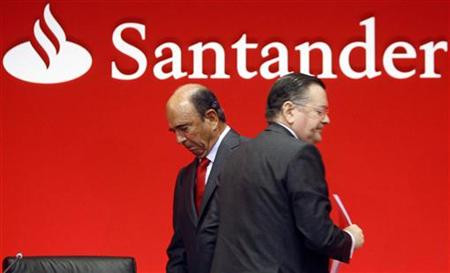 Banco Santander SA - the Spanish owner of Santander UK (Formerly Abbey National), Alliance & Leicester and Bradford & Bingley has said that it will buy 300 former William & Glyn's RBS branches in the UK after posting ten percent rises in profit for the year so far.
Santander UK said that its trading profit was £449 million in Q2 up 7 pct on last year. Trading however was not as good as Q1 which was up 15 pct on last year suggesting a slow-down in business which was reflected across the board, as second quarter profits for the European bank was down 8 pct.
The second largest bank after HSBC Holdings, Banco Santander reported net profit for the three months to June 30 had slipped to €2.23 billion.
The bank is also reportly planning an IPO for 20 percent of its UK operations in London, to fund expansion as shares listed on the Spanish stock market were down 11 cents to midday mainly weighed by its own losses there, not in UK.
"Although the net result is flat compared to the prior quarter, in the current environment we find these results very respectable and they testify to Santander's remarkable resilience," said Eleonore Lamberty, credit analyst at ING Bank.