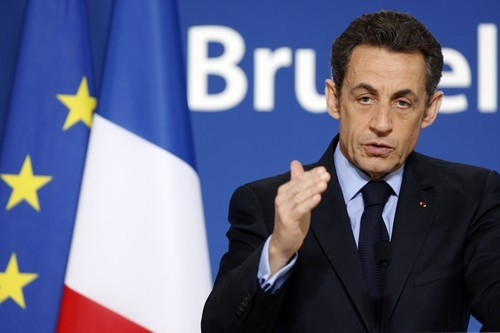 Nicolas Sarkozy, the President of France is visiting London and will meet Prime Minister David Cameron to mark the 70th anniversary of a broadcast by General Charles de Gaulle to Frenchman living in German occupied France.
During the broadcast General de Gaulle called upon the French people to continue the fight against the Germans from abroad despite the occupation of their homeland.
He called upon members of the French armed services to make their way to London to join him in forming the Free French forces which would continue the war with Britain against Germany.
Mr Sarkozy will visit the BBC studio from which General De Gaulle made his broadcast. Later in the day he will lay a wreath with His Royal Highness the Prince of Wales at the statue of King George VI, who was monarch during the Second World War.
Mr Sarkozy will also be meeting veterans of the war with Mr Cameron and a student from the French lycee in London will read the full text of General de Gaulle's speech to Mr Sarkozy.
As well as the French President, around 800 people from the Charles de Gaulle Foundation, the Free French Foundation and similar groups have also been invited to the commemorative events.
It is hoped that the visit will help to foster better ties between Britain and France by harking back to a time when the nations were forced to stand shoulder to shoulder against the scourge of Nazi Germany.
The crisis in the eurozone has led to potential for conflict between Britain and France, with Mr Sarkozy pushing for greater scrutiny of EU budgets to prevent a repeat of Greece's sovereign debt disaster.
Mr Sarkozy has suggested that EU governments, especially those from the eurozone, should be required to submit their budgets to the EU before presenting them to national parliaments, something Mr Cameron has opposed.
It may also be worth noting that today is not only the 70th anniversary of General de Gaulle's broadcast, but the 195th anniversary of the Battle of Waterloo when British and Prussian forces led by the Duke of Wellington and Field Marshall Blucher finally defeated the French army of Napoleon Bonaparte.