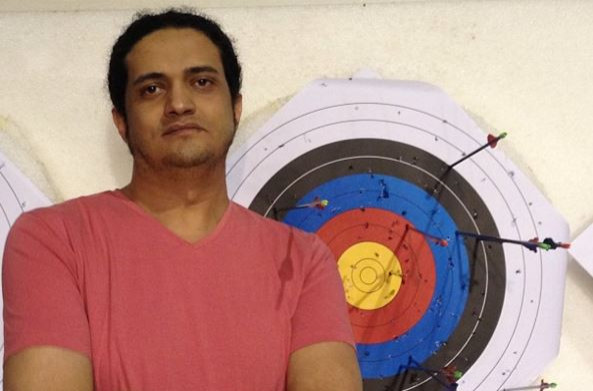 A court in Saudi Arabia has downgraded the death sentence of a Palestinian poet to eight years in jail and 800 lashes. Ashraf Fayadh was detained by Saudi's religious police in 2013 on charges of apostasy and abandoning his Muslim faith in a case that sparked worldwide condemnation.
Fayadh's lawyer, Abdul-Rahman al-Lahim, posted on Twitter that the court had decided to "go back on the previous death sentence". However, he wrote that Fayadh, 35, would still face jail time and the 800 lashes, which will be delivered in instalments of 50 lashes per session. It is also believed that the sentence includes forcing Fayadh to renounce his poetry on Saudi state media, the Guardian reported.
In May 2014 Fayadh was originally sentenced to four years in prison and 800 lashes, however, a new panel of judges ordered his execution in November 2015. The death sentence prompted hundreds of authors and actors from across the globe to appeal for his release, including British poet Carol Ann Duffy and actor Helen Mirren. Human rights groups Amnesty International and PEN International also launched a campaign calling on Saudi authorities to reverse the verdict as readings of his poetry took place in more than 40 countries around the world.
Fayadh's friends and supporters believe that the artist is being punished because of a video he posted online that showed religious police in Saudi Arabia lashing a man in public. Religious police in the country are believed to have first detained the Palestinian refugee following complaints that he had criticised Allah and the prophet Muhammad, as well as insulted the Kingdom of Saudi Arabia and distributed a book of his poetry that promotes atheism.
However, Faydh has denied charges of blasphemy and insisted that he is faithful to the Muslim faith. He said that his book did not portray any messages against his God and that "religious extremists" had twisted the message, originally written about his life as a Palestinian refugee.
Adam Coogle, a Middle East researcher at Human Rights Watch, had welcomed the squashing of Fayadh's death sentence but said that the sentence was still "unjust" and called on Saudi justice officials to "urgently intervene" in the matter. Coogle told the Guardian: "No one should face arrest for peacefully expressing opinions, much less corporal punishment and prison."