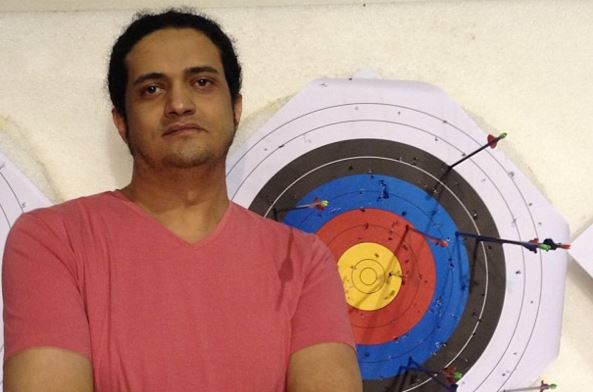 Writers, poets and institutions will unite the world over tonight (14 January) to show solidarity with Palestinian poet, Ashraf Fayadh, who has been sentenced to death by Saudi Arabia for allegedly renouncing Islam. Fayadh's poetry will be read at 122 events in 44 countries as part of a campaign by the International Literature Festival Berlin (ILB) in protest at Saudi Arabia's decision, which it accuses of "disregarding human rights and the rule of law".
Speaking to IBTimes UK, poet Priya Basil - who will moderate tonight's discussion in Berlin and helped organise the event - said: "Words can always be interpreted differently and that's the power of literature - that there are many interpretations, that there isn't just one version. The idea that somebody can insist on a single interpretation and then condemn you to death for that is actually deeply, deeply shocking and disturbing, and so everybody is rallying around the complete injustice of that."
Basil added: "Even if you look at thinkers from the Islamic tradition and from the Arab world, they are as vehement against the idea of a single interpretation, because Islam has always been very pluralistic." She continued: "If they were to insist on a single interpretation even from a religious point of view, [it] does seem questionable". Tonight's reading will "unite politics and literature, so around the fate of this one person, we have a bigger political discussion about everybody's fate".
What does Fayadh stand accused of?
Fayadh has been behind bars since January 2014 after being accused of making blasphemous comments and renouncing Islam in his 2008 book, Instructions Within. Fayadh refutes the charge of blasphemy and said the collection of poems are "just about me being [a] Palestinian refugee...about cultural and philosophical issues. But the religious extremists explained it as destructive ideas against God." He was initially sentenced to 800 lashes and four years imprisonment in May 2014 by the general court in Abha, southern Saudi Arabia, but he was retried in November 2015 and handed the death sentence by a panel of judges.
Adam Coogle, Middle East Researcher at Human Rights Watch (HRW) told IBTimes UK: "To be clear, he [Fayadh] denies that he ever made any blasphemous statements and he denies that his book is blasphemous in any way." Riyadh has come under intense scrutiny over its dismal human rights record and mass executions in January - including that of Shia cleric, Nimr al-Nimr, which saw a rapid breakdown in diplomatic ties between Saudi Arabia and Iran.
How should the international community react?
"Every country that has a good relationship with Saudi Arabia should use whatever diplomatic influence it has to try to curtail some of these executions," Coogle said. "In terms of the UK relationship, one of the things we need to point to is whether or not the UK is selling Saudi Arabia any weapons that are being used to commit war crimes in Yemen."
Prime Minister David Cameron has come under pressure to reassess UK's relationship with the oil-rich Gulf kingdom and has faced calls by the Scottish National Party (SNP) to stop selling arms to Saudi Arabia after Riyadh's execution of 47 people sparked global outrage. In an interview last year, Cameron defended Britain's relationship with Saudi Arabia, saying it provides the UK with "important intelligence and security information that keeps us safe". The prime minister also faced a backlash after failing to comment on the recent spate of executions earlier this month.
According to HRW, Saudi Arabia carried out 152 executions between January and November 2015. Following the death sentence handed to Fayadh, HRW said: "Saudi authorities regularly pursue charges against individuals based solely on their peaceful exercise of freedom of expression, in violation of international human rights obligations." The organisation's Middle East director, Sarah Leah Whitson added: "This death sentence against Fayadh is yet another indictment of Saudi Arabia's human rights record."
For further information on tonight's event, click the following link.