Saudi Arabia: Five worst human rights abuses in the reign of King Abdullah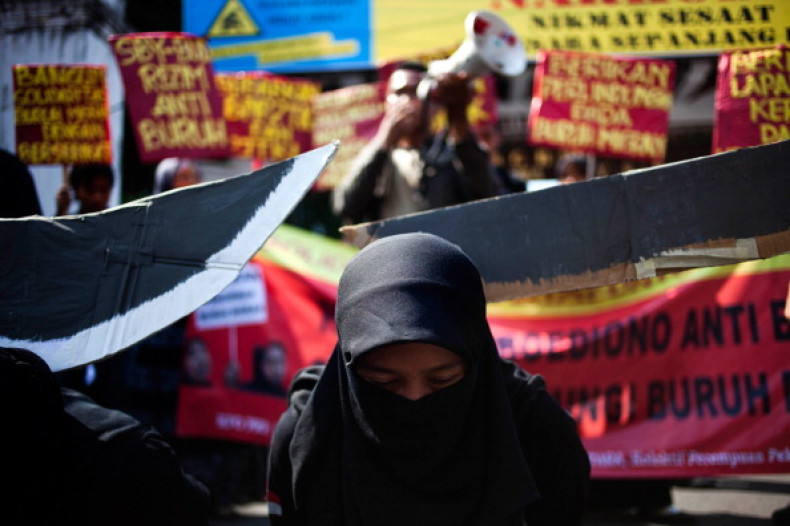 Saudi Arabia has one of the worst human rights records in the world as the country routinely imprisons and executes dozens of people labelled as "enemies of the kingdom".
According to Human Rights Watch (HRW), the reign of King Abdullah - who died on Friday (23 January) at the age of 90 - brought about "marginal advances for women, but failed to secure the fundamental rights of Saudi citizens to free expression, association, and assembly."
The country often sparks worldwide outrage for its repression of basic freedoms and persecution of political opponents and human rights activists.
Torture
Thousands of people are protesting at Saudi embassies around the world, following the case of activist blogger Raif Badawi, sentenced to 1,000 lashes and 10 years in prison for advocating free speech on his blog.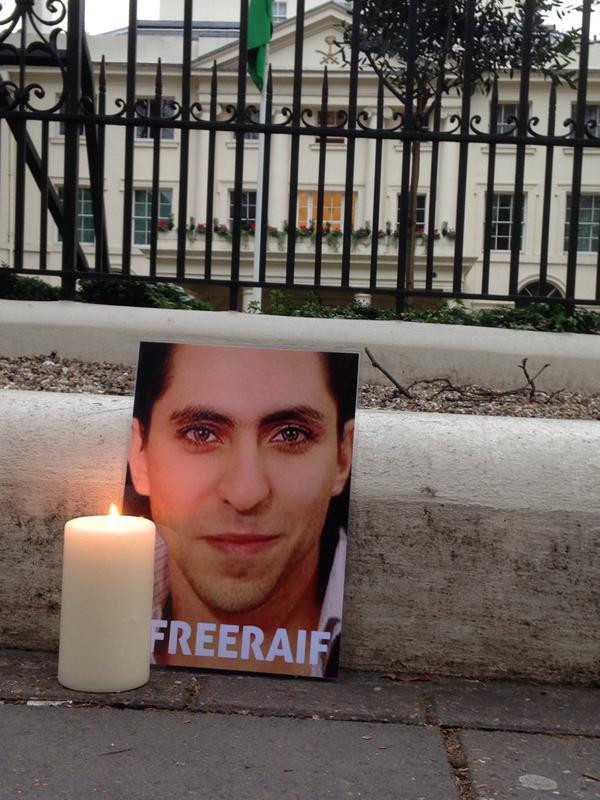 Thousands joined protests in solidarity with Badawi in several countries
Twitter / Trevor Moore
Gerald Staberock, secretary general of the World Organisation Against Torture, told IBTimes UK: "The problem in Saudi Arabia is that the judicial system is used as a tool against those who want more freedom. The case of Badawi is the most prominent at the moment, but it's not the only one.
"In Saudi Arabia there is the so-called 'religious police', whose role is to find human rights advocates and freedom fighters and punish them."
"And then there are high courts, which do not function like in Western countries: They are not in charge of guaranteeing protection of rights, but making sure that punishments are carried out," he continued.
"There are also reports stating that many people who are imprisoned, often without being charged, are also tortured as the scope is to humiliate them and make them suffer. Inmates are also tortured because the Saudi Arabian legal system is based on confessions.
"This is a gross violation of international standards, considering the fact that Saudi Arabia voluntarily subscribed to the UN convention against torture."
Freedom of expression
The case of Badawi is only the latest example of how the country persecutes people who simply advocate basic rights and express their opinions.
Last April, the kingdom introduced a new law expanding the concept of terrorism.
Critics say the new legislation - which uses a broad definition of "terrorism" to include any act intended to insult the reputation of the state, harm public order or destabilise the security of society - is a threat to freedom of speech and thought in the kingdom.
"The law allows people in power to crackdown on anyone," Sara Hashash, Middle East and North Africa press officer at Amnesty International, told IBTimes UK.
"The recent crackdown in the kingdom is targeting civil and political associations and human rights organisations," Hashash continued. "Lots of people are prisoners of conscience and they are detained forcefully for simply stating their opinions."
Persecution of minorities, non-Muslims and Shias
The law introduced last April allows authorities to also persecute people who are non-believers, who are treated as enemies of the state.
The legislation considers a terrorist anyone who "calls for atheist thought in any form, or calls into question the fundamentals of the Islamic religion on which this country is based."
"There is also a widespread discrimination against migrant workers, who are harassed and discriminated," Hashash said.
Beheadings
Saudi Arabia recently made headlines worldwide for publicly beheading a Burmese woman convicted of the sexual abuse and murder of her seven-year-old step-daughter.
Public executions are common in the country, where at least "76 people, from January 2014 to November 2014, have been killed by the authorities," Hashash explained.
Saudis can be executed for murder, blasphemy, banditry, homosexuality acts and infidelity.
Middle East Eye, which often criticises Saudi Arabia for its human rights abuses, compared a set of legal punishments carried out by the Islamic State with the corresponding punishments in Saudi Arabia.
Women's rights
There has been some progress in terms of women's rights, as Saudi women can now work in certain shops.
Saudi Labor Ministry announced in 2014 it intended to appoint women at gold and jewellery shops in the country, in a bid to provide more job opportunities for female Saudis. The Ministry had already granted access to female workers to lingerie, costume and accessory shops in the past few years.
However, women are still forced to cover in public, they must be accompanied by a male guardian and are banned from driving.
"It's undeniable that women are discriminated and don't have equal rights in many sectors such as education, marriage and employment," Hashash said.