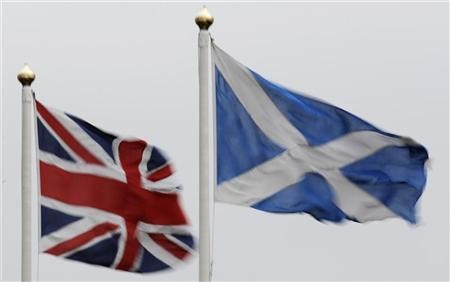 Scotland is set to fully recover from the financial crisis in 2014, according to the Centre for Economics and Business Research which has significantly revised its forecast for growth.
The CEBR stated that Scotland's economy is tipped to grow by the healthiest rate since 2007 to reach 2.2% in 2014.
By the end of this year, the Scottish economy is forecast to grow by 1.4% in 2013 and unemployment is set to also drop.
CEBR forecasts employment rates to grow by 2.4% in 2013 from the year before. Employment rates are then set to rise by 0.8% year on year in 2014.
Average annual employment growth of 0.4% is expected between 2015 and 2018.
This means that the Scottish jobless rate is projected to fall from 7.4% on average in 2013, to 6.1% per cent by 2018.
Reasons for Economic Growth
The CEBR says that Scotland's strong economic recovery is due a rise in consumer confidence and a strong business sector which offsets the drop in revenue from the Scottish oil industry.
According to the Business in Scotland 2013 survey, data shows that 73% of new businesses created in the year running up to March 2013 were unregistered and were so small that they would not be liable to pay value-added-tax (VAT).
While 2014 is tipped to be one of the strongest years of economic recovery, growth on average will be at 1.6% up until 2018.
"It's very encouraging to see relatively high levels of business and consumer confidence returning to Scotland, which are expected to help boost growth in 2014," said CEBR senior economist Rob Harbron. "Although pressures from government cuts remain on the horizon, Scotland looks to have escaped the weak growth conditions seen over much of the past five years."
CEBR's falls in line with the Fraser of Allander Institute at Strathclyde University data that was released at the end of October.
The report showed that growth in 2013 will be 1.3%, rising to 1.8% in 2014, and 2.1% in 2015.
Scottish Referendum
On 18 September 2014, Scotland will vote over whether it will break away from Britain and become independent.
According to the latest poll by TNS BMR, support for Scotland's continued place in the UK remains ahead in the latest opinion poll, as only 29% are said to back independence while 47% back a union.
In February this year, the UK government reinforced its warning that Scotland would have to reapply for its European Union membership if it becomes independent and therefore a currency union under independence would not work.
The Confederation of British Industry (CBI) also warned of the severe impact independence will have on enterprise.
"Scottish independence risks hampering this - businesses could have to deal with different regulations and currencies, for example, which would inevitably have a negative economic impact," said John Cridland, Director-General at the CBI.
European Commission President Jose Manuel Barroso cast doubts over Scotland's EU membership in December last year, after saying that EU law states that newly formed independent states would have to reapply.