Scottish Devolution: Labour's Jim Murphy Backs Transfer of Income Tax Powers to Holyrood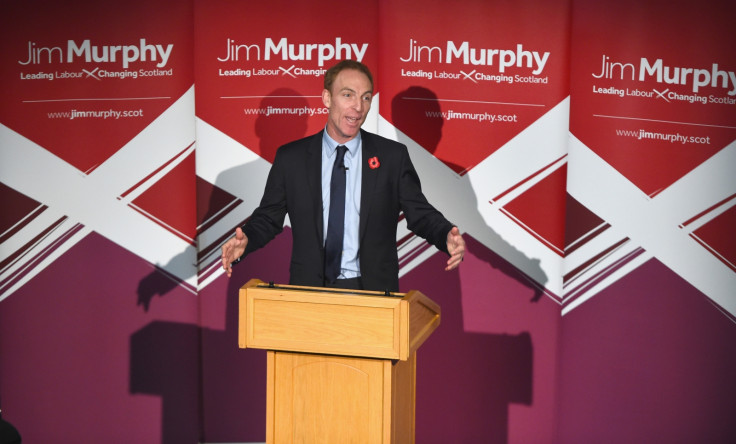 A former shadow cabinet minister has called for the full devolution of income tax powers to Scotland.
Jim Murphy, who stood down from Ed Miliband's front bench team to concentrate on his bid to become the leader of Scottish Labour, said constitutional reform was a "means to an end".
"The difference between Scottish Labour and our opponents when it comes to constitutional reform is that we have never seen it as an end in itself but as a means to an end," Murphy said.
"We want the best constitutional settlement for Scotland because we want the best deal for Scotland.
"Our interest is in making devolution work, not simply in taking with one hand and demanding more with the other, regardless of the consequences."
"I believe that the framework we will be working within will offer huge new opportunities for Scotland.
"But that will only happen if it is in the hands of people and parties whose vested interest is in the success of these new powers and not in their failure.
"We have had too much of that approach — always demanding new powers while failing to use the ones that exist, in order to meet Scotland's urgent needs."
The East Renfrewshire MP also said that Labour should agree to the full devolution of income tax to Scotland ahead of the Smith Commission report.
The paper, authored by Lord Smith, is expected to recommend giving Scotland more powers over tax as well as legal and welfare laws.
Murphy said a Scottish Labour government in Holyrood would use the powers to restore a 50p tax rate.
Neil Findlay, an MSP and one of the three candidates in the Scottish Labour leadership contest, promised to use existing and new powers to tackle poverty and youth unemployment.
"The test of any devolved powers is whether politicians are willing to use them to address and prioritise the deep seated problems facing Scotland," Findlay said.
"I will use existing and new powers, whatever they turn out to be, to tackle poverty, youth unemployment, the social care crisis and to build desperately needed social housing to tackle the housing crisis."
But former Prime Minister Gordon Brown criticised the idea of full devolution of income tax powers to Scotland.
The Kirkcaldy and Cowdenbeath MP, who is expected to stand down from the House of Commons at the 2015 General Election, warned that the move would represent a "Trojan horse for fiscal autonomy".
The Scottish National Party (SNP) called on the Scottish Labour leadership candidates and the Westminster parties to back the devolution of "extensive new powers" for the Scottish Parliament on tax and welfare.
"Labour are completely out of touch with the powers that people want to strengthen Scotland. While Labour war amongst themselves over income tax, the fact is that the public and civic Scotland have moved far beyond that and fully expect a more extensive range of new powers to be delivered," said Stewart Maxwell, an SNP MSP.
"That is what was promised to them by the Westminster parties in the Vow they made in the days leading up to the referendum.
"Scotland badly needs a broad range of new powers over taxation, employability and welfare – only by gaining control of these powers can we become better equipped to tackle poverty, reduce inequality and strengthen and grow the Scottish economy."
© Copyright IBTimes 2023. All rights reserved.