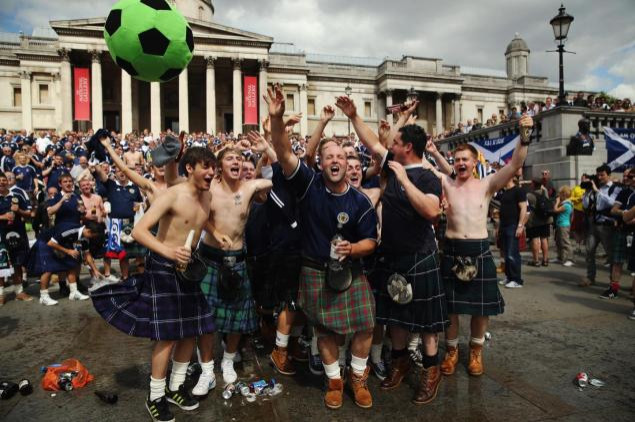 Suspected Scottish football hooligans have been arrested seven months after Scotland and England fans clashed in central London.
Five men were arrested at various addresses in Scotland in relation to a brawl following the August friendly between the two sides.
The arrests come under Operation Arrowtip, a Met Police operation that investigates football-related disorder.
Two of the men, aged 25 and 26, are from Glasgow; a 21-year-old is from Bonnybridge; and two suspects, aged 19 and 27, are from Dundee.
Tens of thousands of Scottish fans, or the Tartan Army as they are known, descended on to the capital prior to the match, which England won 3-2.
It was the first time they had played in 14 years and the Scots wasted no time in making London their home from home, occupying Trafalgar Square in the build-up to the game.
All five suspects have been bailed pending further enquiries to a central London police station.
Supt Andy Barnes, who leads Operation Arrowtip, said: "Violence amongst supporters has no place in football, be it before, during or after a match.
"The vast majority of supporters who attended last year's England vs Scotland match behaved in the right spirit and this was an isolated incident."