Video: Galatasaray and Besiktas Fans in Street Brawl Ahead of Turkish Football Derby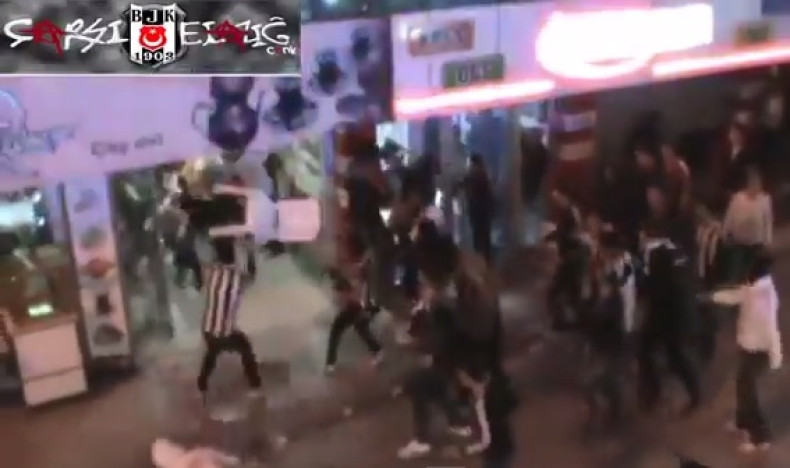 Football hooliganism once again spilled onto the streets of Turkey after rival fans of Galatasaray and Besiktas clashed ahead of a derby match on Saturday with some hurling chairs at opposing supporters.
A video shows an army of men, some in balaclavas, wearing the black and white colours of Besiktas attacking Galatasaray fans.
Galatasaray and Besiktas: The rivalry
The fierce rivalry between the two Istanbul clubs initially started in 1924 when both sets of fans wanted to earn bragging rights.
The clubs largely represented fans from different socio-cultural backgrounds - the upper class/aristocracy of Galatasaray and the middle class followers of Besiktas.
This element has largely disappeared from the hostilties and nowadays it is more a rivalry between two of the biggest clubs in the country.
Top Ten Football Rivalries from Around the World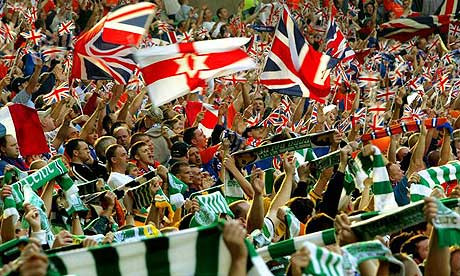 Rangers and Celtic fans have bad blood over religion, politics, geography as well as football
Jeff Mitchell / Reuters
Rangers vs Celtic - The Old Firm derby gains its notoriety from its religious and political undercurrent. Celtic is a largely Catholic club while Rangers is strongly linked to Protestants. Throw into the mix unionist and nationalist antipathy, "God Save the Queen", anti-Pope and IRA terrace chanting, and the Glasgow derby is unlike any in the world.
Manchester United vs Liverpool - A battle over who is the best club in Britain. While United have enjoyed an era of dominance in the Premier League, surpassing Liverpool's haul of 18 titles with their 20, the Merseyside club has captured the coveted European Cup five times to the Manchester side's three. Culturally, a divide has existed over industry and music.
Barcelona vs Real Madrid is watched by an estimated one billion viewers
Reuters
Real Madrid vs Barcelona - Some of the greatest players to ever grace a football field have also played in El Classico. Cruyff, Maradonna, Zidane, Messi and Ronaldo have all played in front of up to 100,000 baying fans in the match that pits the capital of Spain against the capital of Catalonia
River Plate vs Boca Juniors - A cross between a carnival and a collesium gladitorial contest. Argentina is gripped for days leading up to this match between the country's two most famous clubs. The resentment emanates from Boca's humble origins and River's upper-class roots. The fixture has been named as one of the '50 sporting events to attend before you die'.
Fenerbahce v Galatasaray - Istanbul's two dominant clubs were founded just two years apart with geography igniting the fuse to a rivalry that creates a deafening wall of noise every time they meet on the pitch. Social class again plays a role in stoking the falmes between the fans, with Gala seen as a club for the aristocracy and Fener the 'people's club'.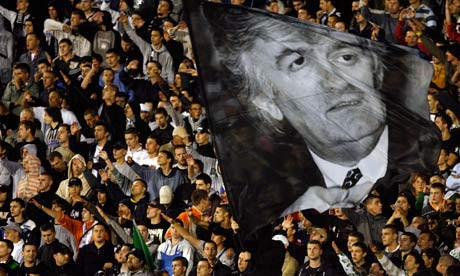 Partizan Belgrade fans wave a picture of former Bosnian Serb leader Radovan Karadzic
Reuters / Marko Djurica
Partizan Belgrade v Red Star Belgrade - Sometimes atmospheres are best described by fans' grafiti and "Welcome to Hellgrade" perfectly sums up this battle of Belgrade. Thousands of fans descend on the stadium hours in advance to ramp up the chaotic atmosphere. Flags, flares and the fiercest atmosphere in European football.
Olympiakos v Panathinaikos - As well as the political tension between the two sides, Olympiakos are regarded as a working-class club, and Panathinaikos are billed as eternal enemies with feuds existing across Athens as well as on the pitch.
Palmeiras v Corinthians - Brazil's most fractious fixture. The rivalry began when 'betrayers' split from Corinthians to create a sports club for Italians, known as Palestra Italia, and later just simply Palestra (Palmeiras).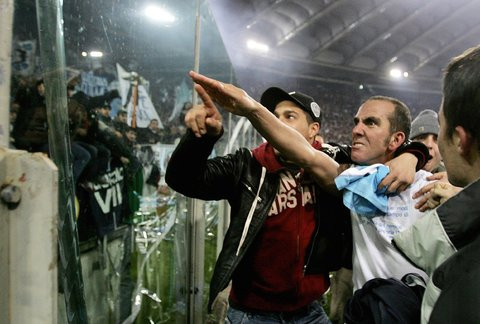 Paolo Di Canio courted controversy after saluting Lazio fans
Reuters
Roma v Lazio - The only thing eternal about these two clubs' rivalry is their hatred for one another. It was the decision of Lazio not to merge with three other clubs from the capital, and so creating AS Roma, that began the rift, which sky-rocketed to new heights of madness when Paulo Di Canio played for Lazio.
Ajax v Feyenoord - The liberal, artisan Amsterdam fight against the rugged, industrial Rotterdam. When Holland's most successful clubs collide fans take their enmity to a whole new level, resulting in street brawls and arrests.