Scottish Independence: Catalonia Pledges Allegiance at Holyrood During Voting Time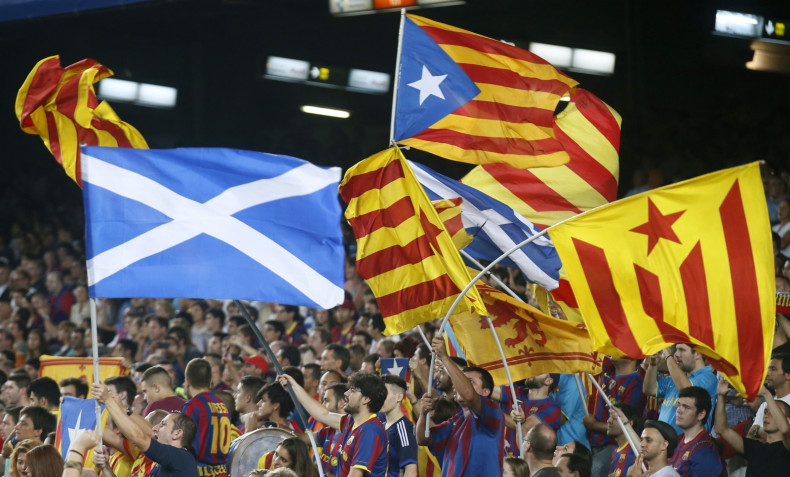 Scots have only a few more hours until polling stations close but for separatists from Catalonia, the process of having an independence referendum is merely a dream at the moment.
In a bid to support Scots, who are voting for or against independence, many flew to Scotland for just a few days, to pledge allegiance to fellow unionists.
Speaking to IBTimes TV, Sergi, 21, Josep, 23, and Tomas, 24, revealed their hopes for Catalonia breaking away from Spain.
They said that if Scotland breaks the 307-year old union with Englad, it may foster more support from the European Union to help their plight for independence.Catalonia is an industrial and commercial titan in Spain and pays far higher taxes than any other regional community.
It accounts for over 20% of Spain's GDP, and only 8% is ploughed back into it by the state.
The Catalan community represents 16% of the total Spanish population.
Since Scotland announced its referendum, many market participants have compared the country's plight to breakaway from the UK, to Catalonia's struggle against Spain.
While Catalonia's government hit back at comparisons between its battle for independence from Spain and Scotland's, it did highlight how the main reason for this was because the country had been granted the right to a referendum.
The Catalonia government said in a report that its fight for independence vastly differs from Scotland's attempts, and is shouldn't be compared, as the British government "respects" the Scots and has authorised a referendum while Spain "absolutely refuses".
"It is almost impossible to draw parallels between the Catalan and the Scottish process," said the Catalonian government.
Meanwhile, Spanish officials warned that the government would use "the full force of the law" to block a planned non-binding referendum on independence in Catalonia.