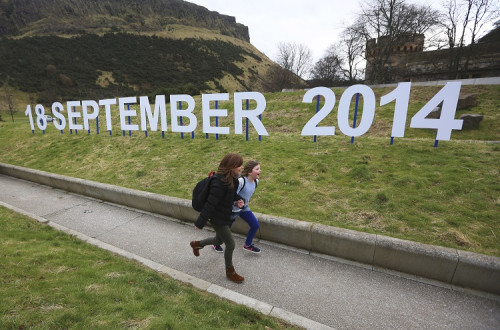 One of Britain's most accomplished judges has entered the debate surrounding an independent Scotland's membership to the European Union.
Sir David Edward, a Judge at the European Court of Justice from 1992 to 2004, is known to be critical of the "theories" of senior European figures who insist an independent Scotland would have to renegotiate its re-entry to the EU as a new state.
Allowing Scotland to continue its membership would be a "far less drastic" solution than unpicking its current EU rights and then reassembling them, he said.
The Scottish government's claim about a "seamless" integration into the EU has been challenged by former Scottish government deputy solicitor Patrick Layden QC, who is also giving evidence.
He said it is now "generally agreed that an independent Scotland would no longer be within the EU" while the rest of the UK (RUK) would continue its existing membership.
He said: "I note Sir David Edward's query as to whether the correct legal analysis might not lead to the conclusion that both Scotland and RUK would effectively cease to be member states.
"There seems to be a general acceptance that RUK will continue as a member state and, in international law, general acceptance by other states carries a great deal of weight."
Edward is known for being sceptical about arguments that Scotland will not be able to join the EU if it achieves independence.
As well as Edward, Holyrood's European and External Relations Committee will also hear from former Scottish government deputy solicitor Patrick Layden QC; Professor Kenneth Armstrong, director of Cambridge University's Centre for European Legal Studies, and constitutional expert Aidan O'Neill QC.
Recently, the Scottish Parliament's Economic Committee drafted in a long line of heavyweight witnesses to give evidence over the potential impact independence will have on the country's economy should Scotland decide to break away from the UK.
Former UK chancellor Alistair Darling, Treasury secretary Danny Alexander, Scotland's deputy first minister Nicola Sturgeon, and finance minister John Swinney will make appearances.
The British government has just published a paper where it said Scotland benefits considerably from the United Kingdom's approach to immigration and border security.
The paper focuses on the theme of borders and citizenship is the tenth in a series from the government on potential Scottish independence.
However, the Scottish government's White Paper on independence said the interests of Scotland would be best served by a green card immigration system.