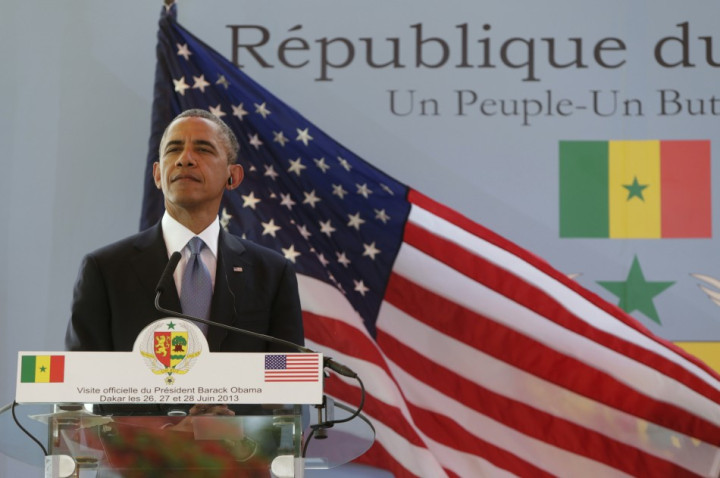 US president Barack Obama said he would not "scramble jets" to intercept fugitive whistleblower Edward Snowden after he leaves Moscow.
Obama was questioned about Snowden, who was reported to still be in the transit zone in Moscow's Sheremetyevo airport, during a media conference in the Senegalese capital of Dakar on his first stop on a six-day Africa trip.
Obama stressed that the real damage to the US lay not in the international humiliation of the refusal of both China and Russia to extradite Snowden, but in the exposure of key spying programmes.
However, he ruled out any impromptu military action to get Snowden should he eventually leave the Russian airport.
"No, I am not going to be scrambling jets to get a hacker," Obama said.
he said that he had not contacted the Chinese or Russian presidents to demand the expulsion of Snowden because extradition requests had to go through regular legal channels.
"I have not called President Xi personally or President Putin personally. I shouldn't have to. This is something that routinely is dealt between law enforcement officials in various countries," he said.
Putin confirmed that Snowden, a former IT contractor for the National Security Agency (NSA), was in the transit zone of Moscow airport and would not be handed over to the United States as he had not committed any crimes in Russia.
Putin dismissed accusations by Washington that Russia violated US laws by failing to extradite Snowden as "nonsense". The whistleblower, he said, was a free man.
"The sooner he chooses a destination the better," Putin added.
Snowden, 30, has been charged with theft of US government property, unauthorised communication of national defence information and wilful communication of classified communications intelligence.
He revealed to the Guardian and the Washington Post details of a secret government surveillance programme called Prism which he obtained while working as a contractor for the National Security Agency (NSA).
There are rumours that behind-the-scenes negotiations were taking place between the Russian and US governments over Snowden.
"We certainly understand the fact that Mr Snowden chose to travel to Moscow, chose to travel to Russia, creates issues that the Russian government has to consider," White House spokesman Jay Carney said.
"We also believe that when it comes to Mr Snowden, we agree with President Putin that we don't want the situation to harm our relations."
READ:
Edward Snowden's Escape from Hong Kong 'a Setback' for US-China Relations
US Whistleblower Snowden Could Claim Asylum in Iceland, Says Wikileaks Contact
US Whistleblower Snowden Could Claim Asylum in Iceland, Says Wikileaks Contact
Edward Snowden Spy Scandal: GCHQ Spying on Turkish Diplomats 'Unacceptable'
Hundreds March On US Consulate in Hong Kong to Support Whistleblower Snowden
NSA Whistleblower Edward Snowden Not Welcome in UK, Warns Whitehall