Action man Steven Seagal has taken celebrity endorsements of causes to the next level by vowing to spend his life taking on real-life terrorists.
Hard man Seagal reportedly made the solemn promise during a visit with US politicians to the site of the Beslan school massacre in south-east Russia.
He was so moved by standing among the graves of the more than 300 victims - 150 of them children - that he made a promise to combat terrorism in all its forms.
A Kremlin spokesman said: "They were shocked. After visiting the cemetery, which has more than 300 similar tombs, most of them with the photos of small children, Steven Seagal said he will spend the rest of his life fighting against terrorism."
Judging by Seagal's long history of knocking out opponents and using martial arts techniques to get results, perhaps it is time for the bad guys to start worrying.
However, Seagal's methods nowadays appear more diplomatic than his famous onscreen roles. The 80s action hero said he wanted to help strengthen ties between the US and Russia security services.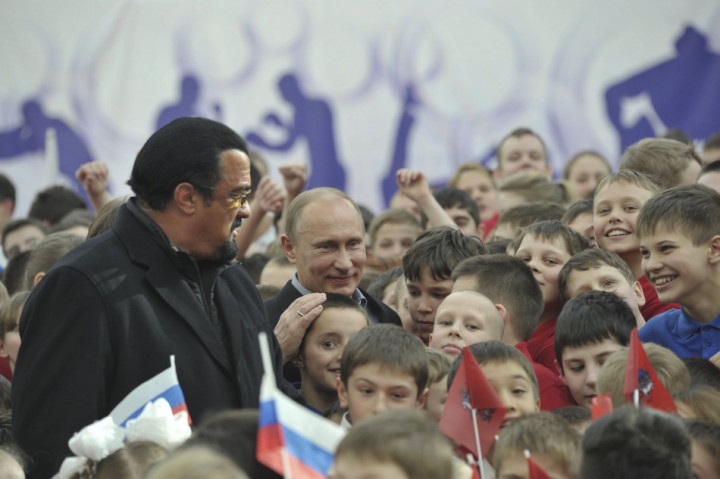 Seagal helped organise the trip as part of efforts to find out more about the suspected Boston Marathon terrorists - whose family come from southern Russia.
It was the latest example of celebrities from the entertainment world getting involved in issues that are usually the terrain of politicians and diplomats. In March, former NBA basketball star Dennis Rodman took a bizarre trip to North Korea declaring that its leader, Kim Jong-un, had "a friend for life". Rodman told reporters: "I love him. He's awesome."
Seagal arranged a meeting between a delegation of US politicians and high-level Kremlin figures by utilising what must be very strong contacts in Russia's corridors of power, according to Californian senator Bana Rohracher.
The politician led the group and revealed that he and Seagal regularly discussed "thwarting radical Islamic terrorism".
"We are very appreciative of the help he has given this congressional delegation to make sure we accomplished our mission. We are very pleased that he opened up some doors for us so we could have some very high-level discussions."