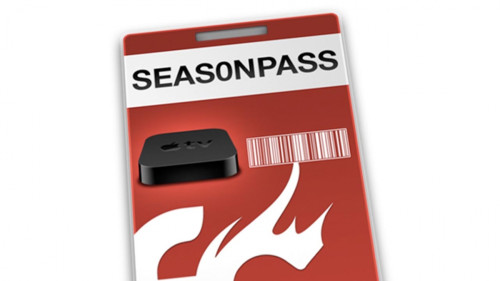 Apple TV 2 (ATV 2) owners are in for some good news as the FireCore team has released the first untethered jailbreak via Seas0nPass 2.4 for ATVs running the older firmware (v5.3). ATV firmware 5.3 is basically the equivalent of iOS 6.1.4 (10B809) which was for long limited to just a tethered jailbreak.
As iDownloadBlog notes, those who have already updated their ATVs to the latest firmware (v6.0 or higher) will have to downgrade to the older firmware (v5.3) in order to be eligible for installing Seas0nPass 2.4 untethered jailbreak. Such users can download firmware 5.3 from here and install it manually via iTunes by holding control/alt and hitting the Restore button.
With due credit to the recent developments in the jailbreak community, Apple TV 2 users can now enjoy an untethered hack for a hassle free experience without the need to connect the device to computer every time it needs a reboot. In other words, untethered exploits used in p0sixpwn (the untethered jailbreak for iOS 6.1.3 – iOS 6.1.5) have now been ported to the new Seas0nPass v2.4.
Here is what the FireCore team said during the announcement of Seas0nPass 2.4 untethered jailbreak release for Apple TV 2:
"Today we're excited to announce the release of new versions of aTV Flash (black) and Seas0nPass that allow for an untethered jailbreak of Apple TV 5.3 (ATV2 only). Big thanks goes out to @iH8sn0w, @winocm, and @SquiffyPwn for their help with the new version of Seas0nPass. Additionally, there has been some encouraging progress made on Apple TV 6.0+ thanks to our friends @evad3rs and @nitoTV, and we hope to have more news available soon."
Check out the complete changelog for Seas0nPass 2.4 below:
· Added support for untethered Apple TV 5.3
· Improved reliability of installation process
· Improved diagnostic reporting
· Other various fixes and improvements
FireCore team is reportedly working with evad3rs and nitoTV to unleash a jailbreak release for Apple TV 6.0.1, which is the latest software update for Apple TV 2. It is still uncertain if Apple TV 3 will ever be jailbroken as it still lacks the necessary exploits.
Nevertheless, interested Apple TV 2 users can download the latest version of Seas0nPass (v2.4) from the links below and install the same using our step-by-step guide.
NOTE: Jailbreaking your ATV 2 enables you to install aTV Flash (black) which provides access to new features such as web browsing, Last.FM access, support for HTML5 video sites, stream media from most NAS devices and more.
Download Links
Pre-requisites
· Download and install the latest version of iTunes
· Download the latest version of Seas0nPass (using the links above)
· Keep a micro USB cable handy for connecting your ATV to computer
· Disconnect other iOS devices such as iPods, iPhones and iPads from computer
How to Use Seas0nPass 2.4 to Jailbreak Apple TV 2 Untethered on Firmware 5.3
Step 1: Unzip 'Seas0nPass.zip' file using winrar/winzip or 7-zip and launch Seas0nPass.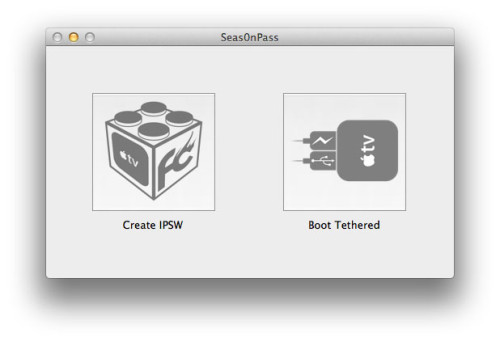 Step 2: Tap the 'Create IPSW' button to begin the jailbreak process.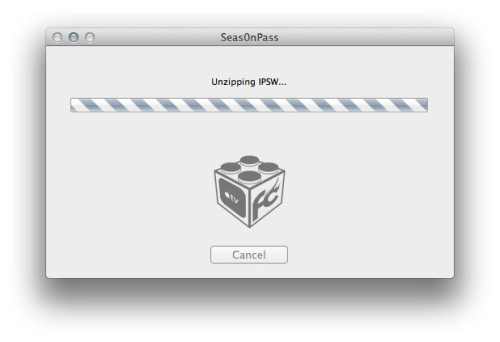 Step 3: The latest Apple TV software will be downloaded and used to create a custom jailbroken file. The following status messages appear in sequence:
Validating IPSW
Unzipping IPSW
Patching ramdisk...
Patching filesystem...
Mounting image...
Patching filesystem...
Installing software...
Unmounting image...
Converting image to read only compressed
scanning image for restore
creating IPSW...
Custom IPSW firmware file successfully created!
Step 4: Once the custom IPSW firmware file is created, you will get a prompt to connect Apple TV to computer. Connect your ATV to computer using the micro USB cable (leave power cable disconnected).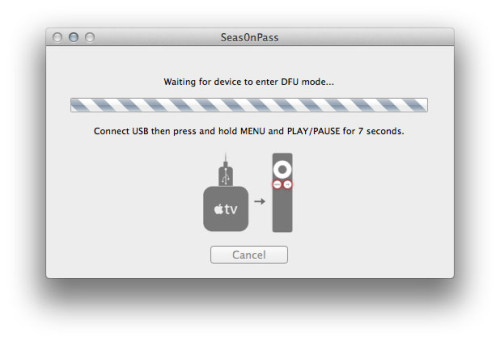 Step 5: Wait until the light on front of Apple TV begins flashing rapidly, and then point the remote at the ATV. Now press and hold MENU and PLAY/PAUSE buttons for seven seconds. NOTE: This step requires silver (aluminium) Apple TV remote that shipped with the ATV 2. It will not work with the older, white remotes.
Step 6: You will be notified when the device enters DFU mode and iTunes will launch automatically to perform the restore process. The restore process is fully automated (including the step where custom IPSW firmware file needs to be selected). So, wait until the ATV is restored with custom jailbroken IPSW firmware.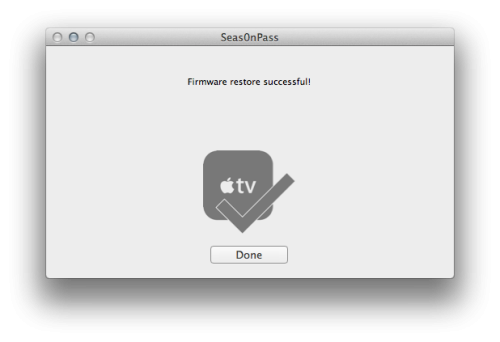 Step 7: Finally, iTunes will confirm that your Apple TV 2 is successfully restored. Now connect your ATV to your television. At this moment, a (temporary) red FC logo appears in place of the Settings icon which confirms the jailbreak is successful.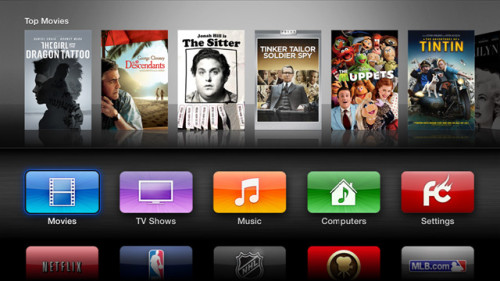 Also Read: iOS 6.1.3/6.1.4/6.1.5 Untethered Jailbreak: P0sixspwn 1.0.3 Stable Update Released for Windows [How to Install]
For further assistance, check out the video tutorial below:
[Source: FireCore]