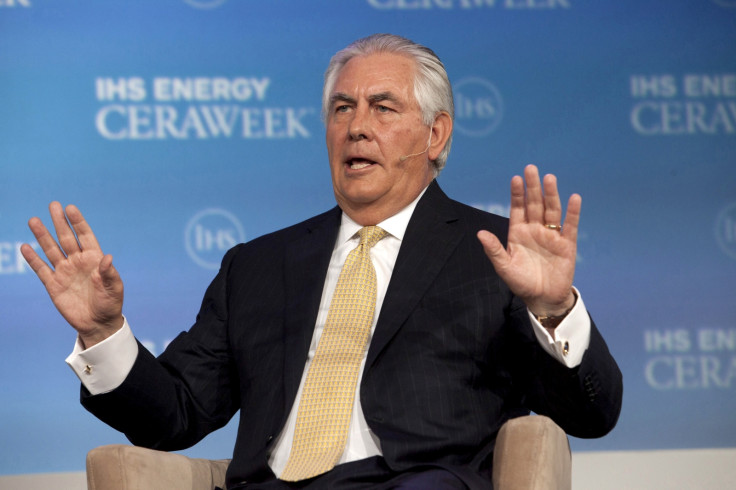 Leaked documents have revealed that Donald Trump's pick for secretary of state, Rex Tillerson, is a long-time director of a US-Russian oil company based in the Bahamas. Tillerson, who is the CEO of ExxonMobil, has also been a director of the oil firm's Russian subsidiary Exxon Neftegas since 1998.
The oil executive's name - RW Tillerson - appears next to other officers based in Houston, Texas and in Moscow and Sakhalin in Russia, The Guardian reports. An anonymous source leaked the 2001 document from the corporate registry in the tax haven of the Bahamas to the German newspaper Süddeutsche Zeitung as part of a leak of 1.3 million files.
The filings show that Exxon has registered more than 67 companies in the Bahamas, covering subsidiaries in Russia, Venezuela and Azerbaijan.
Exxon released a statement to The Guardian, saying: "It is not done to reduce tax in the country where the company operates. Incorporation of a company in the Bahamas does not decrease ExxonMobil's tax liability in the country where the entity generates its income."
The Guardian noted that while Tillerson's directorship of the company is not inappropriate, it has never been reported before. The leak is bound to raise new questions about his relationship to Russia and Russian President Vladimir Putin.
Critics say that Tillerson's close relationship to Putin could create potential conflicts of interest. Putin awarded Tillerson the Russian Order of Friendship in 2013, two years after a deal between ExxonMobil and Russian state oil company Rosneft to explore the Kara Sea in Russia's Arctic.
According to The Guardian, Tillerson is also close to Igor Sechin, the head of Rosneft and the second-in-command in the Kremlin. The deal with Rosneft was put on hold in 2014 after sanctions were imposed by President Obama on Russia. Sechin is banned from entering the US under the sanctions.
Tillerson has previously told Exxon's annual meeting that "we do not support the sanctions". He added: "We always encouraged the people who are making those decisions to consider the very broad collateral damage of who they are really harming."
Trump's pick for secretary of state will face a Senate hearing by the foreign relations committee to have his appointment approved. The committee is split 10-9 between Republicans and Democrats.
At least two Senate Republicans, Arizona's John McCain and Florida's Marco Rubio, have expressed reservations over Tillerson's appointment. Rubio said on Tuesday (13 December) that he has "serious concerns" about green-lighting the appointment.