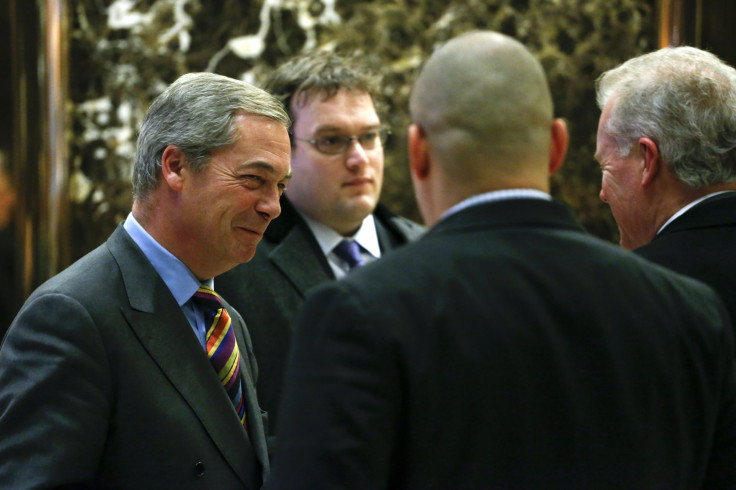 British government ministers have been using middle men to contact former UKIP leader Nigel Farage in an attempt to build better relations with the incoming Trump administration, reports claim.
Farage has stressed his personal relationship with the US President-elect over the last few weeks, first being pictured smiling with Trump outside the golden doors of his Trump Tower suite, and then being seen entering the tower last week for the third time since Trump won the election.
In an interview on Sunday (18 December), Farage told the BBC that he wants to be a "bridge" between the UK government and the Trump administration. However, this was disputed by Foreign Affairs Select Committee Chairman Crispin Blunt, who retorted that Farage has utilised the media but "has not sought advice from the British Embassy in the United States and put his connections at the disposal of the British government".
Farage also added that Downing Street "have banned Cabinet ministers from even talking to me". However, Secretary of State for International Trade Liam Fox told the Andrew Marr programme that he has "not had any such instruction".
The Daily Telegraph reported on 18 December that a middle man has been instructed to make contact with Farage on behalf of a cabinet minister. A source close to Farage told the paper: "They all want to speak to Nigel Farage but they can't."
Downing Street have pushed back on Farage's relationship with Trump. When the president-elect tweeted that Farage "would do a great job" as the UK's ambassador in Washington, Number 10 responded that, "There is no vacancy".
Speaking on LBC, Farage claimed the government is interested only in "petty party politics and trying to keep me out of everything". He has met Trump at least twice since the election, whereas Theresa May has yet to meeting the president-elect, having only spoken by phone.
There has been some speculation that Farage will take on an informal advisory role with Trump on UK relations. If that were to happen, it may force ministers to work with Farage to build relations with the US.