Two sculptures that will adorn Trafalgar Square's Fourth Plinth for the next four years have been announced. The winning entries will rest under the watchful eye of Admiral Nelson from 2018 and 2020 respectively.
Five sculptures had been shortlisted for installation in the north-west corner of Trafalgar Square. On Tuesday morning (21 March) at the National Gallery it was announced that The Invisible Enemy Should not Exist by Michael Rakowitz and The End by Heather Phillipson had prevailed.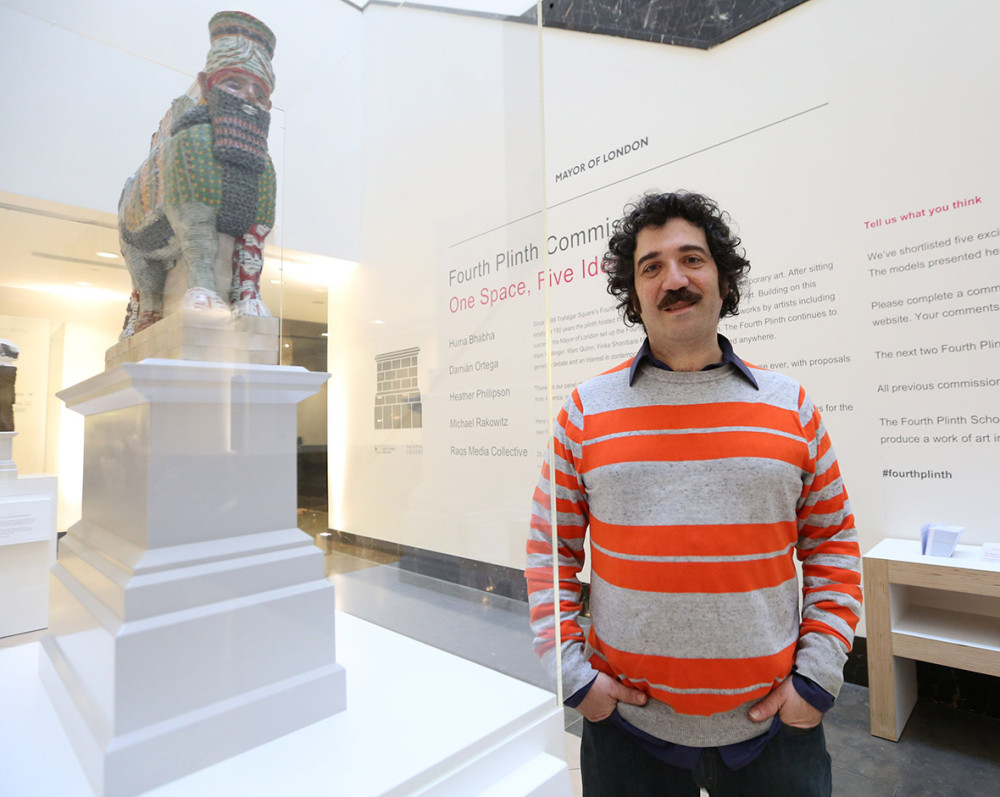 They will become the 12th and 13th commissions to occupy the Fourth Plinth, which is currently home to David Shrigley's Really Good, a bronze statue of a "thumbs-up" sign with an elongated, seven metre high thumb.
"This year we received five extremely strong proposals for the next Fourth Plinth commissions, and choosing the winning commissions was particularly challenging," said Ekow Eshun, chair of the Fourth Plinth Commissioning Group.
"I wish to congratulate Michael Rakowitz and Heather Phillipson on winning the commission. Their works are wondrous, striking and deeply engaging. The new commissions will proudly continue the legacy of the Fourth Plinth in putting world-class contemporary sculpture at the heart of London."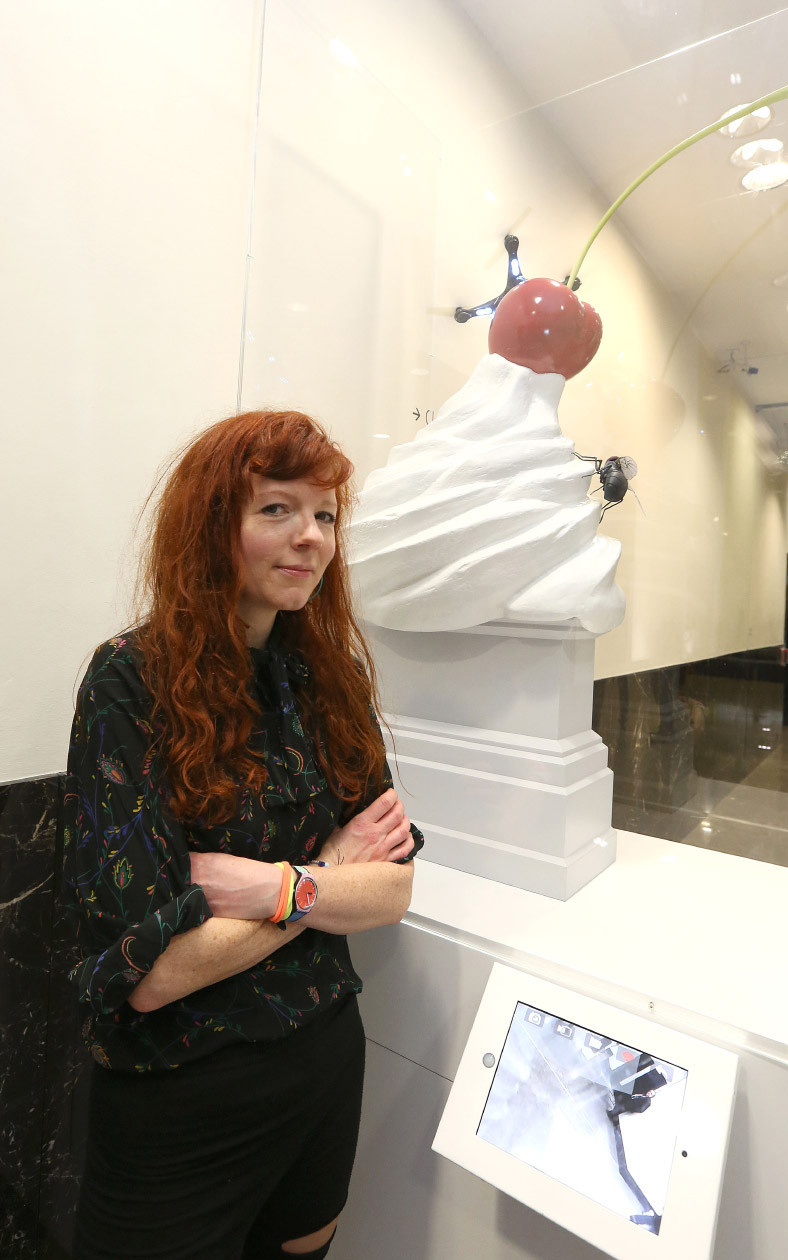 Erected in Trafalgar Square's north-western corner in the 19th century, the Fourth Plinth was originally intended to support an equestrian statue like its north-eastern cousin, which boasts a bronze George IV on horseback.
But the money ran out and the Fourth Plinth remained vacant for more than 150 years until the Royal Society of Arts commissioned Mark Wallinger's Ecco Homo in 1999 as a temporary installation.
Since then it has never been empty. It has been occupied by a further 10 works including a blue cockerel, a skeletal horse and a human head. Now Rakowitz's The Invisible Enemy Should not Exist and Phillipson's The End will take up the mantle in one of the world's most famous public art spaces.
Here is a full brochure of the five proposals that were considered by the judges...
Heather Phillipson: The End
Heather Phillipson was born in 1978 in London, where she continues to live and work. The End is a giant dollop of whipped cream with a cherry on the top as well as a large fly and a drone which will transmit video pictures of Trafalgar Square. The Fourth Plinth website says: "Themes of global ennui, surveillance and corporate hubris are hinted at on a gigantic cartoon scale."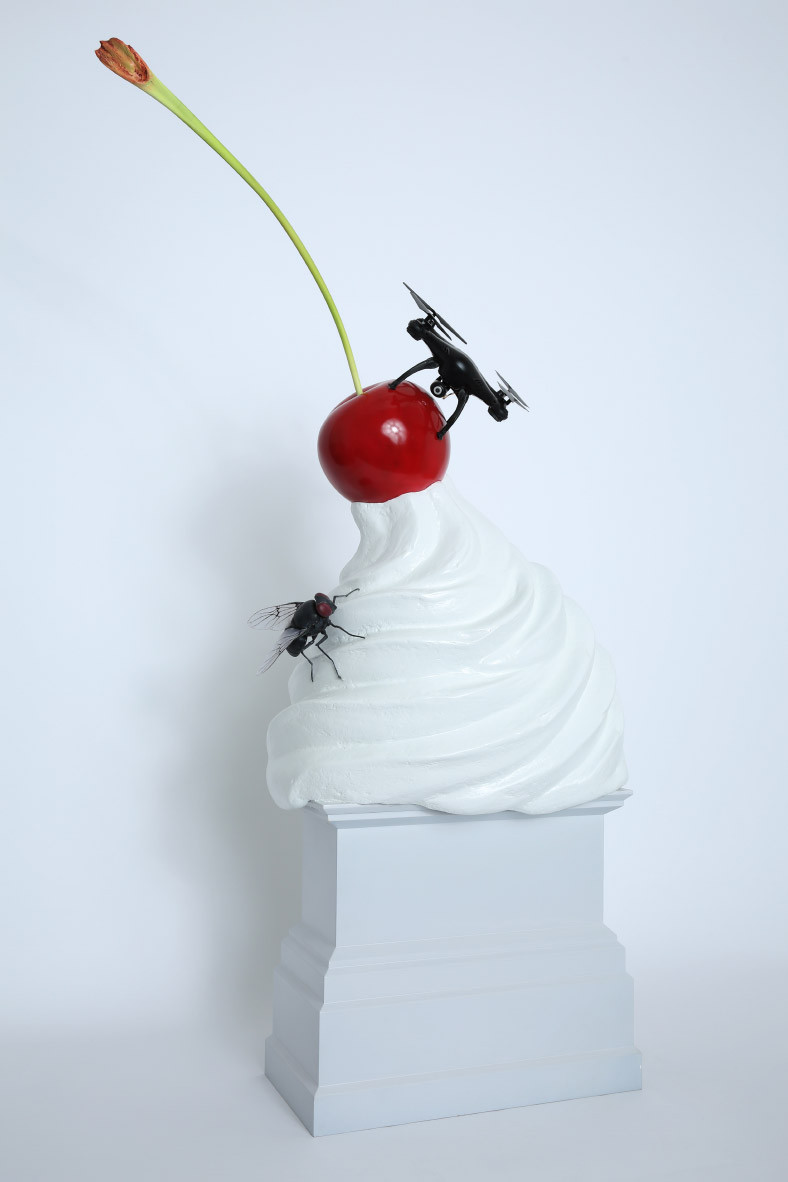 Michael Rakowitz: The Invisible Enemy Should not Exist
Michael Rakowitz was born in New York in 1973 but now lives and works in Chicago. The Invisible Enemy Should Not Exist is a recreation of the winged bull that was destroyed by Isis at Iraq's Mosul museum. The Fourth Plinth website says: "Where the original was carved in marble, this will be made using recycled date syrup cans, relics of a once proud Iraqi industry destroyed, like the bull, by war."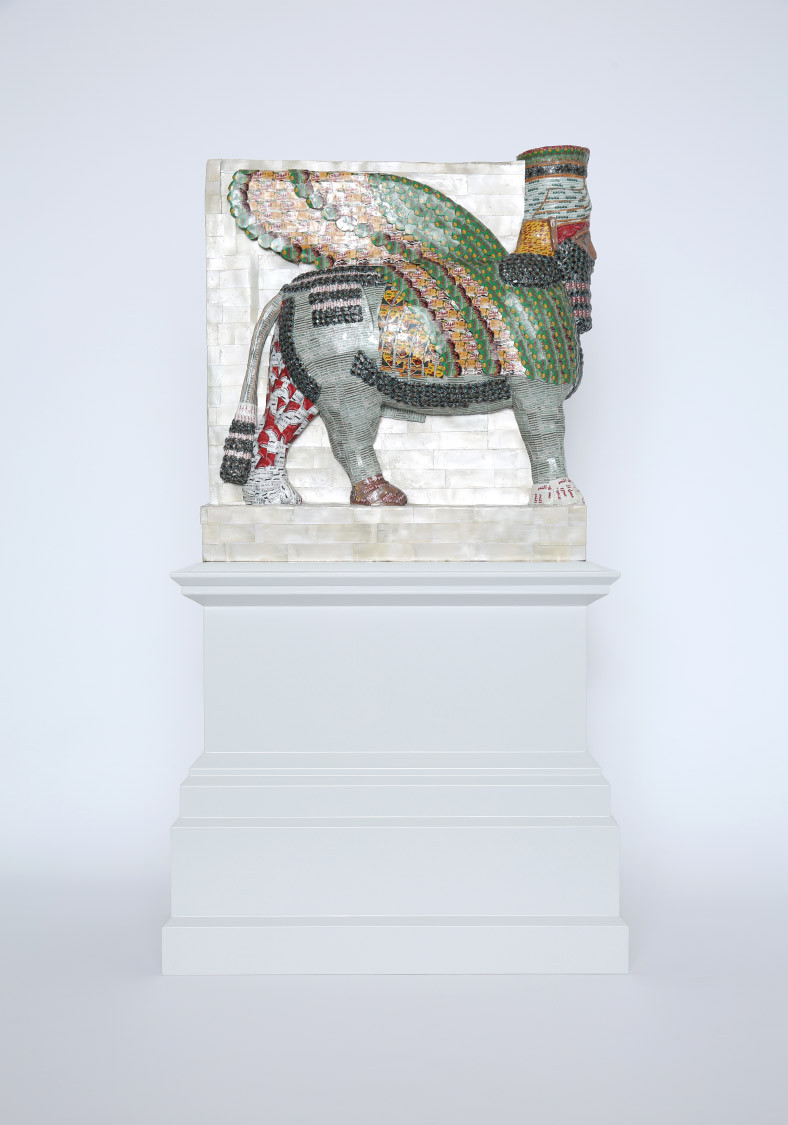 Raqs Media Collective: The Emperor's Old Clothes
Raqs Media Collective was founded in 1992 by Jeebesh Bagchi, Monica Narula and Shuddhabrata Sengupta.The Emperor's Old Clothes is made of white fibre-glass. The Fourth Plinth website says: "The Emperor's New Clothes fairy-tale, is an idea frequently used to lampoon the pretentiousness of contemporary art... Where traditional statues, of the sort seen elsewhere in the square, reinforce the presence of power, in this work there is a ghostly sense of absence or departure."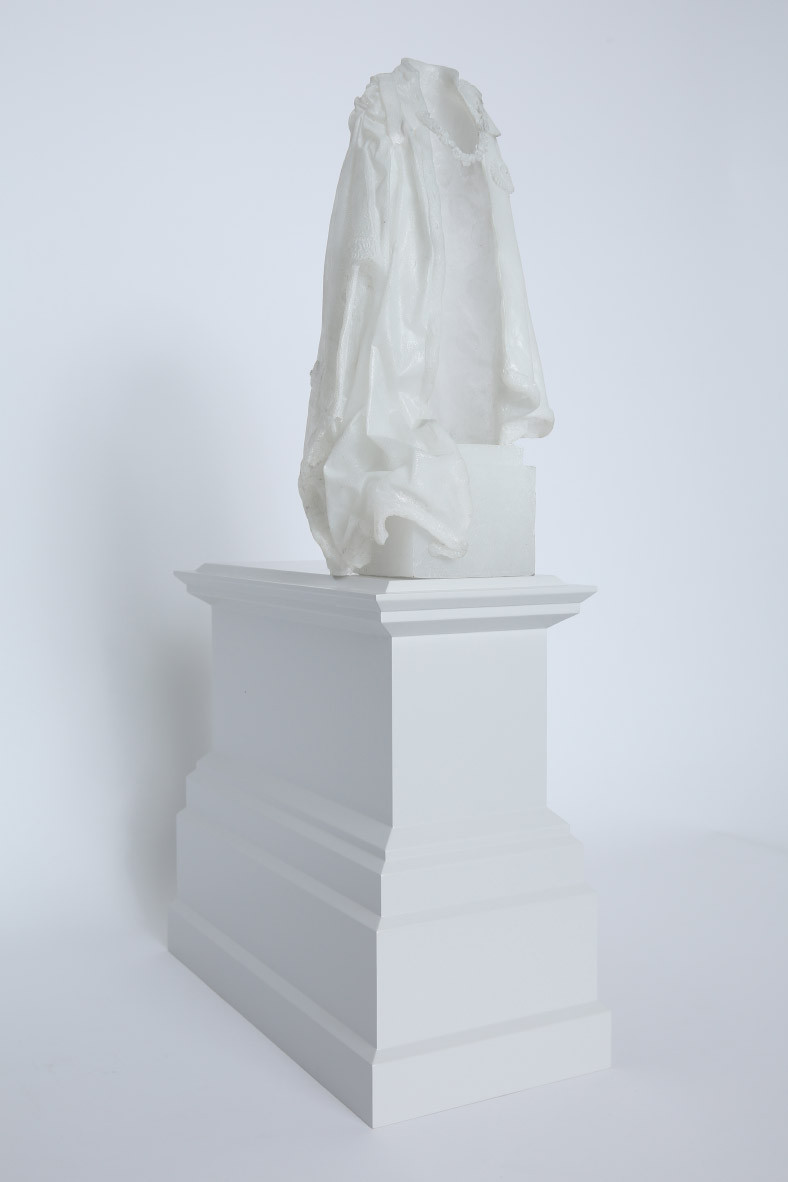 Huma Bhabha: Untitled
Huma Bhabha was born in 1962 in Karachi, Pakistan but now lives and works in New York. Untitled is a large bronze figure made out of cork and polystyrene. The Fourth Plinth website says: "It combines the future and the past – reminiscent of a sci-fi creature on one hand, but of the kind of primitive sculpture which inspired by artists such as Picasso and Rodin."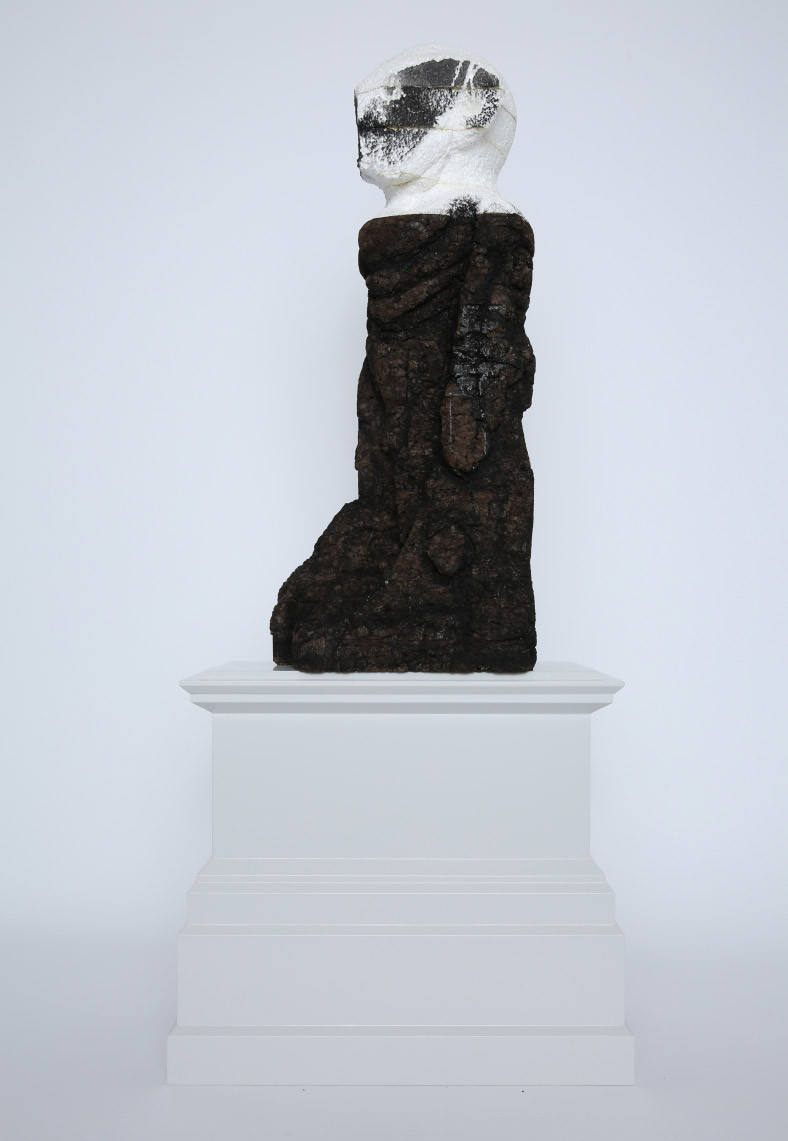 Damián Ortega: High Way
Damián Ortega was born in 1967 in Mexico City, where he continues to live and work. High Way is made from a Volkswagen truck, some ladders and some barrels. The Fourth Plinth website says: "It looks as though it has been assembled in a precarious way and could topple at any moment. It shows us how invention is often borne of necessity, especially for artist who often work with little or no budget and in informal and spontaneous ways."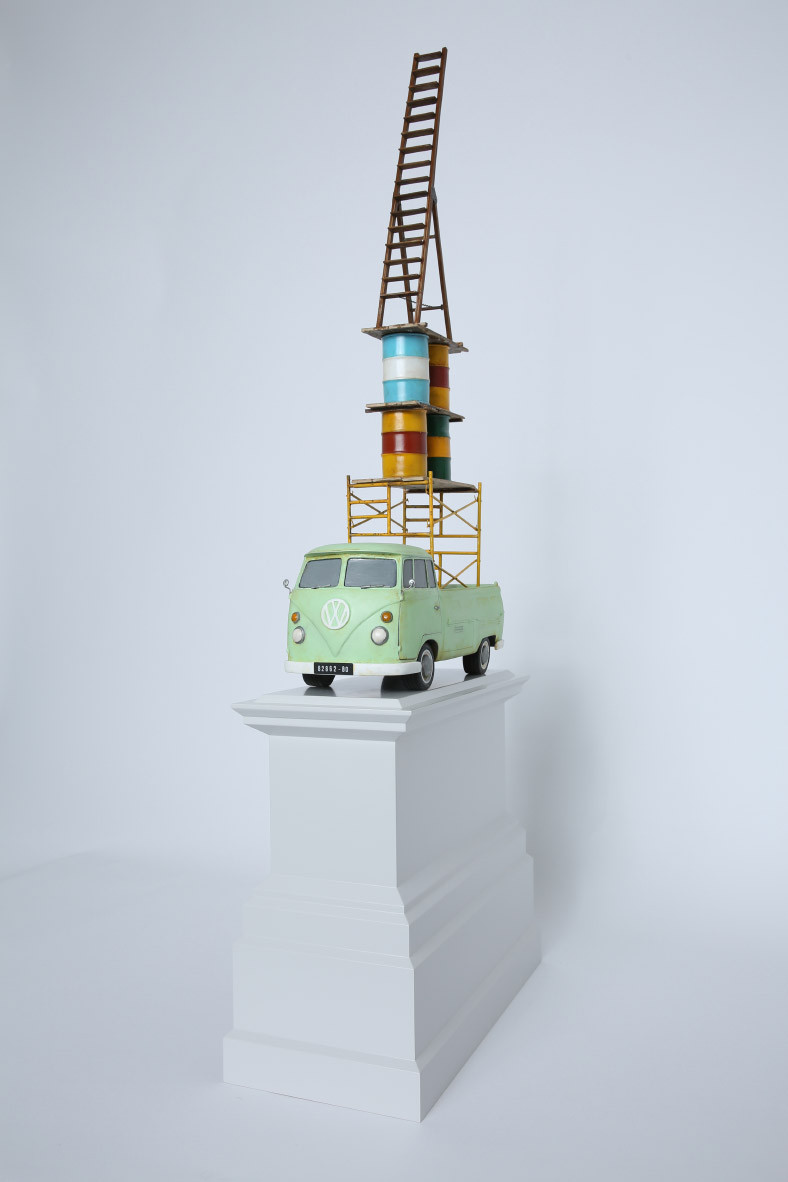 Commenting on today's announcement, Justine Simons, Deputy Mayor for Culture and Creative Industries, said: "I am delighted that Michael Rakowitz and Heather Phillipson are the winning artists of the next two Fourth Plinth commissions. Over 9,000 people have had their say on what was an incredible shortlist, and it's clear that these two hugely contrasting artworks stand out for their visual impact as well as their unique ability to make the viewer stop and think.
The Fourth Plinth is the world's most loved and talked-about public art platform – it is pioneering, inventive and surprising, and above all, shows that London is open to creativity and ideas from around the world."