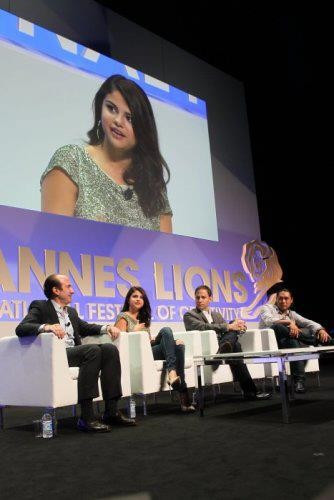 Singer and actress Selena Gomez is eager to prove she has both brains and beauty.
The Wizards of Waverly Place actress was the undoubted star at the Viacom Seminar during the Cannes Lions 59th International Festival of Creativity held at Palais des Festivals in France. The 19 year old singer looked elegant even in her casual attire; she shone in a silver sequin top from Alice + Olivia paired with ripped blue jeans and stiletto heels.
The seminar was on the topic - Millennials and The Future of Creativity - and focused on the generation born between 1980 and 2000 and their influence on business and creativity.
"Flew into Nice for Cannes Lions panel," Selena tweeted, "What an amazing panel to be a part of director Jon Chu, Stephen Friedman president of MTV, and moderated by Philippe Dauman president of Viacom. It was so beautiful here, I hope to be back for the film festival some day!!!"
The Disney star spoke in detail about her initial days in the entertainment industry and talked about her supporters.
"Lauren was my very first fan ever and she came to every taping of my show on Wizards when it wasn't even airing and nobody cared about it and nobody came to the tapings," she said, "She was amazing. I remember I met her then after season three and our show had won two Emmys and she was still there."
She even gave a piece of advice to anyone interested in pursuing a career in the glam world.
"Be passionate about what you want and what you go for. You will get a lot of people who will tell you differently and tell you a lot of things that will bring you down. Use that as motivation and really love it," she added.
The singer who is dating singer Justin Bieber spoke of her own experiences of social networking sites like Twitter and Facebook and how it has helped to remain in constant touch with fans and followers.
"Twitter allows you to hear from your fans individually--one voice, one opinion," Gomez also gave example of how her fans helped her to pick the fragrance for her perfume, "The number one thing is being relatable and authentic."
Take a look at the Viacom Seminar at Cannes Lions...