Selfridges department store has been criticised for installing so called 'anti-homeless spikes' outside their Manchester store.
The small metal studs, which make it impossible for homeless people to sleep outside the buildings, caused controversy last year when they were installed outside a block of luxury flats in London and a branch of Tesco in the capital's West end.
Both sets were removed following protests as well as petitions gathered more than 130,000 names.
A separate online petition urging Selfridges to remove the "affront to humanity" has attracted more than 2,500 signatures.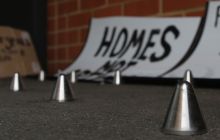 Cathy Urquhart, who set up the change.org petition, added: "They tell the homeless that they are not welcome, that they are a problem to be moved on. We should be looking after the homeless, not demonising and scapegoating them. Manchester is better than this."
Selfridges said the spikes are not there to stop homeless people sleeping outside the store.
A spokesperson told the IB Times UK they were installed "as part of a number of measures to reduce litter and smoking outside the store's team entrance, following customer complaints".
Last June, the Mayor of London Boris Johnson described the anti-homeless spikes which appeared in the capital as "terrible".
Jacqui McCluskey, director of policy and communications for Homeless Link, added: "Many people who sleep rough just don't know where to turn and are amongst the most vulnerable in our society. Sleeping on the streets is dangerous, bad for your health and individuals need support.
"This approach is not only inhumane, it does nothing to tackle the causes of rough sleeping and just moves the issue on for someone else to deal with."
Tesco claimed they installed the spikes after customers said they were intimidated by anti-social behaviour outside the store.