The US health care bill currently going through congress and set to replace the Affordable Care Act, also known as Obamacare, will throw 22 million more people off health insurance, estimates from the nonpartisan Congressional Budget Office (CBO) said on Monday.
Under current law, the CBO estimates that 28 million people would be uninsured by 2026 and under the new legislation, that figure rises to 49 million.
The CBO also estimates that the bill would reduce the deficit for the period 2017-2026 by $321bn (£252bn). "The largest savings would come from reductions in outlays for Medicaid," the CBO's report read.
The report also estimates that the average premiums paid in the nongroup market would rise until 2020, when they would start to decrease.
With the new estimates, Democrats came out swinging against the bill. "Throwing 22 million Americans off of health insurance, raising premiums for older Americans, defunding Planned Parenthood and giving $231bn in tax breaks to the top 2% is a cynical and immoral proposal." Senator Bernie Sanders said in a statement.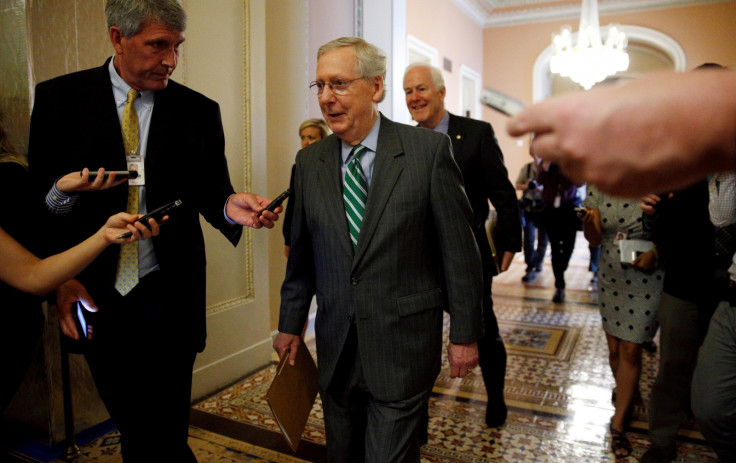 "The reality is that this so-called 'health care' bill is nothing more than a massive transfer of wealth from working families to the very rich. All of us, including Republicans whose constituents depend on Medicaid to survive, must work together to see that this bill is defeated. Our job today is to improve the Affordable Care Act, not destroy it," he said.
Other groups also came out against the proposed bill, with the US Conference of Catholic Bishops issuing a statement saying: "the loss of affordable access for millions of people is simply unacceptable."
"We pray that the Senate will work in an open and unified way to keep the good aspects of current health care proposals, to add missing elements where needed, and to not place our sisters and brothers who struggle every day into so great a peril on so basic a right." The USCCB said.
After a tight push through the House of Representatives, the bill may never get through the senate with a number of Republican senators saying they are unable to support the legislation without major changes.
Senate Republican leader, Mitch McConnell said in a statement: "Americans need relief from the failed Obamacare law. The Senate will soon take action on a bill that the Congressional Budget Office just confirmed will reduce the growth in premiums under Obamacare, reduce taxes on the middle class, and reduce the deficit.
"The American people need better care now, and this legislation includes the necessary tools to provide it."