The US Senate has voted to repeal the timid changes made under former President Barack Obama to restrict access to gun sales.
The Republican-led chamber has voted to block a regulation that would prevent an estimated 75,000 people with mental disorders from being able to purchase guns.
The repeal passed with 57 votes in favour and 43 against in the Senate, the Associated Press reported. In the House of Representatives, a majority of 235 to 180 voted to block the regulation on 2 February and now the measure is in President Donald Trump's hands, who is expected to sign it.
The move is seen as a larger effort from the Republican party to take advantage of their control of both legislative chambers and the presidency to repeal regulations passed in the last months of the Obama administration.
The new rules aimed to bolster the federal background check system, requiring the Social Security Administration to include the names of those who received disability benefits and had a third party managing those funds in the database. Meant to prevent people with mental disabilities from accessing a firearm, critics argued the rule discriminated against the disabled and was too broad.
Republican US Senator for Kentucky and majority leader Mitch McConnell noted that 20 disability groups have come out against the regulation. "The reality is that, like us, they believe the regulation is simply bad policy, places an unfair stigma on those with disabilities and violates their constitutional rights which is why a wide array of groups oppose it," he said from the Senate floor, quoted in the Hill.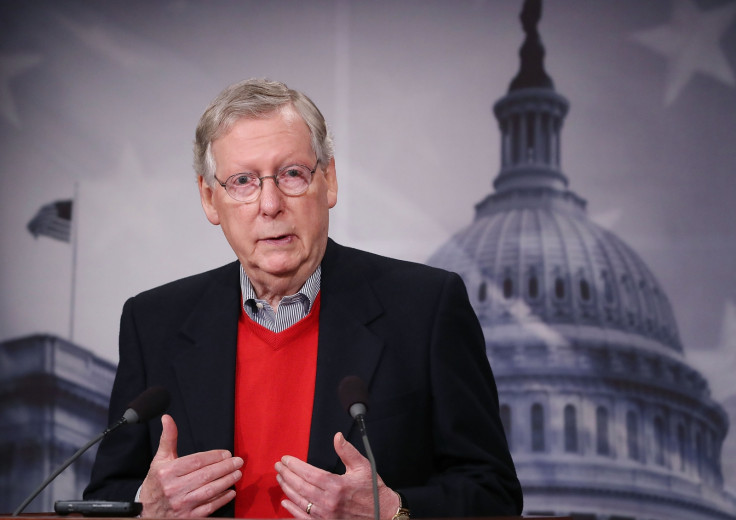 Similar arguments were made in a tweet from the National Rifle Association (NRA): "Troubling that 'progressives' immediately resort to stigmatising and stereotyping people with mental health issues to whip up fear and misinformation," it read.
The NRA has staunchly opposed the Obama-era measures to restrict access to firearms of certain individuals considered to be a potential risk, such as people convicted of domestic abuse. The influential lobby also makes generous donations to US lawmakers. According to the Washington Post, since 1998 the NRA has donated almost $4m (£3.2m) to members of Congress who are currently in office. Forty four of 100 Senators, including McConnell, and 249 of 435 Representatives have accepted NRA donations.
Obama had pushed for changes to gun ownership laws following the 2012 Sandy Hook Elementary School mass shooting, which left 26 dead, including 20 children. The violence shocked America, and was one of more than 20 deadly mass shootings that occurred during the eight years of the Obama presidency. "Gun violence is an epidemic – it kills more than 30,000 people every year. Let's strengthen gun safety provisions, not strip them", US Senator for California and Democrat Dianne Feinstein wrote on Twitter ahead of the vote.