Senator Jeff Flake, a Republican from Arizona, announced in a blistering speech that he will not seek re-election. Flake, a frequent critic of President Donald Trump, lambasted the commander-in-chief for undermining American values and his "mercurial behaviour".
"If I have been critical, it's not because I relish criticising the behaviour of the President of the United States," Flake said in an emotional speech on the Senate floor on Tuesday (24 October).
Flake continued: "The notion that one should stay silent as the norms and values that keep America strong are undermined and as the alliances and agreements that ensure the stability of the entire world are routinely threatened by the level of thought that goes into 140 characters—the notion that one should say and do nothing in the face of such mercurial behaviour is historic and, I believe, profoundly misguided."
He added that he will no longer "be complicit or silent" and hopes to free himself of the "political consideration that...caused me to compromise too many principles".
Flake took issue with Trump's leadership skills and his inability to recognise any shortcomings.
"When a leader recognises new hurt and goes to look for someone to blame, there is perhaps nothing more devastating to a society," he said. "Leadership knows that most often a good place to start in assigning blame is to look somewhat closer to home."
Arizona's junior senator joins Senator Bob Corker of Tennessee in criticising Trump while announcing his retirement ahead of the 2018 midterm elections. Flake has previously taken issue with Trump and the Republican Party's response to the new president, ABC News noted.
Trump, meanwhile, has shown his own disdain for Flake. In August, the president tweeted his support of Kelli Ward, who planned to challenge Flake in Arizona's Republican primary.
"Great to see that Dr Kelli Ward is running against Flake Jeff Flake, who is WEAK on borders, crime and a non-factor in Senate. He's toxic!" Trump tweeted.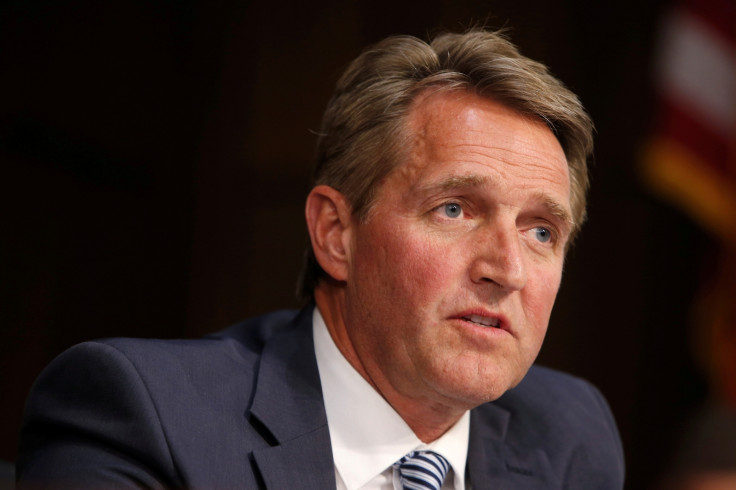 Also on Tuesday, the White House implied that Flake's decision to retire came at a good time, CNN reported. "Based on the lack of support he has from the people of Arizona, it's probably a good move," press secretary Sarah Sanders said during the press briefing.
Flake's retirement opens the possibility of a Trump-friendly Republican taking his place, but also gives Democrats the chance to pick-up a traditionally Republican seat.
While Trump's White House may be looking forward to Flake leaving the Senate, many Republican senators showed their support. According to CNN, Flake received a standing ovation from two big-time Trump critics, Senator John McCain and Corker, as well as Senator John Barrasso, a Republican from Wyoming.
"One of the greatest people I've served with," Corker told reporters after the address. "He's what I would call a real conservative."