'The senator from Kentucky is now working for Vladimir Putin' – John McCain tears into Rand Paul
McCain and Paul clashed over Montenegro's Nato membership.
Republican Senator John McCain berated his GOP colleague, Rand Paul, after he opposed a resolution paving the way for Montenegro to join the Nato alliance on Wednesday (15 March).
Prior to the vote, McCain warned that any objection would amount to "achieving the objectives of Vladimir Putin" and requested that the resolution be approved unanimously. Paul voted against the accession protocol and then scurried out of the Senate chamber.
Paul's exit prompted an angry backlash from McCain, who did not mince his words. "I note the senator from Kentucky leaving the floor without justification or any rationale for the action he has just taken," the Arizona senator said.
"That is really remarkable – that a senator blocking a treaty that is supported by the overwhelming number, perhaps 98 at least of his colleagues, would come to the floor and object and walk away...The only conclusion you can draw when he walks away is he has no argument to be made.
"He has no justification for his objection to having a small nation be part of Nato that is under assault from the Russians. So, I repeat again, the senator from Kentucky is now working for Vladimir Putin," McCain added.
Following McCain's comments, Paul said he stood by his decision and argued that the US military is stretched too thin.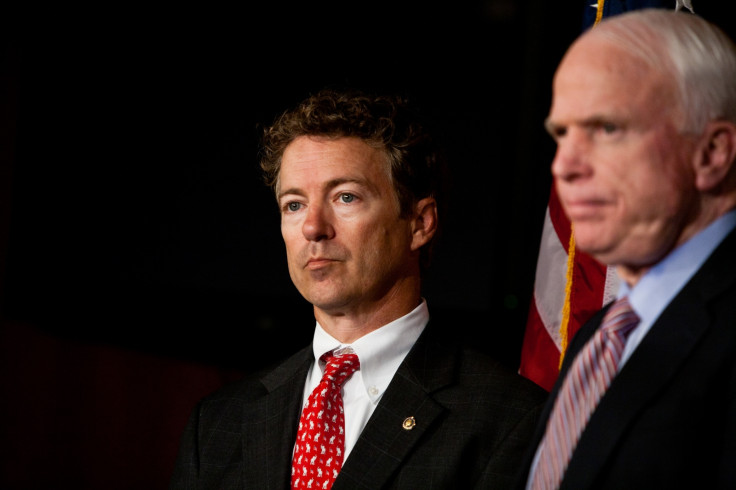 "Currently, the United States has troops in dozens of countries and is actively fighting in Iraq, Syria, Libya, and Yemen (with the occasional drone strike in Pakistan)," Paul said in a statement. "In addition, the United States is pledged to defend 28 countries in Nato."
Paul, who is known for his libertarian foreign policy views, has clashed with McCain in the past.
In response to McCain's "dictator" comments on Trump last month, Paul told ABC News: "If I were to look at foreign policy, I would say John McCain has been wrong on just about everything over the last four decades.
"He advocated for the Iraq War, which I think destabilised the Middle East. If you look at the map, there's probably at least six different countries where John McCain has advocated for having US boots on the ground."
© Copyright IBTimes 2023. All rights reserved.