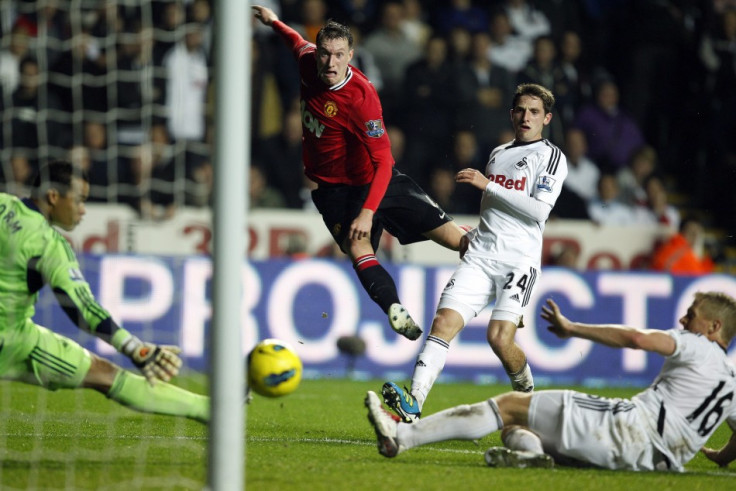 Manchester United legend Gary Neville has compared Phil Jones to former Old Trafford luminaries Roy Keane and Bryan Robson.
Jones' form this season for Manchester United and England have been widely praised and the 19-year-old is currently one of the most lauded young talents in British football.
Sir Bobby Charlton has compared the former Blackburn Rovers starlet to Manchester United icon Duncan Edwards, while Fabio Capello, who deployed the defender in central midfield for both games against Spain and Sweden, suggested Jones was similar to AC Milan hero Franco Baresi.
Neville is equally fulsome in his praise for the Manchester United youngster's talents, comparing Jones to his former Manchester United teammates Roy Keane and Bryan Robson. Neville believes Jones has a similar authority and assurance to the aforementioned Red Devils legends.
Regardless of the lofty praise and comparisons to some of footballs most famous names, Neville, who now works as a pundit for Sky Sports, believes England and Manchester United have got a sensational player.
"I have been away on holiday in Dubai but I was I amazed to read that Fabio Capello had compared Phil Jones with Fernando Hierro and Franco Baresi." The former Manchester United captain told the Daily Mail.
"This praise comes after Sir Bobby Charlton said that Jones reminded him of Duncan Edwards.
"When you get two men with such experience and stature in the game mentioning names like that, the whole football world should take note.
"For me, Jones has a touch of Bryan Robson or Roy Keane.
"Forget whether he plays centre-half, holding midfield, attacking midfield or right-back; forget that he might be better at holding midfield than attacking, or at centre-half rather than right-back.
"The fact that he can play in those positions for England against the world champions at Wembley and play for Manchester United in the biggest matches at the age of 19 tells you everything.
"Expectations will be high and he will go through dips but England and Manchester United have got a sensational player."