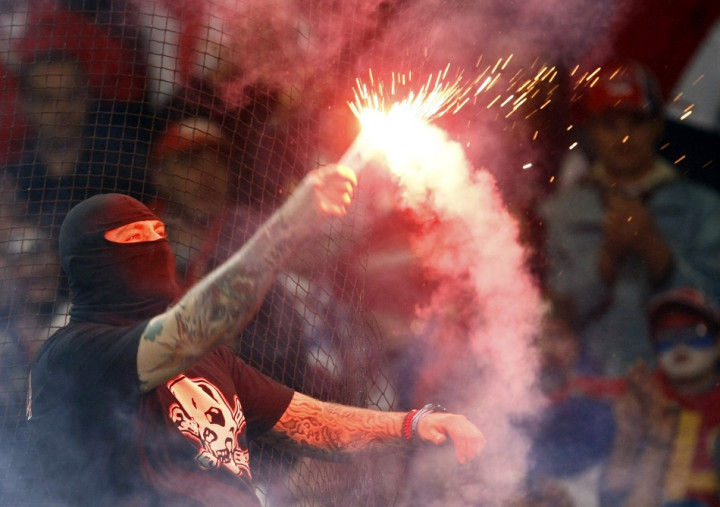 It was once the English disease. Crowds of embittered young football fans with far-right sympathies kicking, fighting and abusing their way through Europe, trashing stadiums and laying waste to peaceful towns everywhere they turned. The reprehensible conduct of their fans earned English clubs a five-year ban from European competition in the late 1980s, and brought contempt across the continent.
But now the reality is far different. English football has moved on, banning its most nefarious trouble makers and adopting a zero tolerance approach to racism. Its approach has earned widespread acclaim; one international coach recently praised the FA for dealing with hooliganism "efficiently and ruthlessly" and urged other governing bodies wrestling with hooliganism to follow its example.
The man who bestowed this praise was Savo Milosevic, who, as technical director of the Serbia Under-21 team, had a front row seat as his side's match against England was tarnished by violence and racist abuse last night. Milosevic could only watch in horror from the dugout as Serbian fans made monkey noises towards England defender Danny Rose and hurled seats onto the pitch following their team's defeat.
Having once been the world's most infamous perpetrator of football violence, England now finds itself the victim. And, having been forced to endure international purdah for the behaviour of its fans a quarter of a century ago, the FA has every right to argue that Serbia should also be sent to the sin bin for its litany of crimes.
Hooliganism has long been an issue in Serbia, with matches between Belgrade and Partizan routinely scarred by extreme violence. But in recent years the country's internecine hatred has percolated the international stage; Serbian fans have been guilty of a spate of offences, beginning with the abuse of another black England player, Nedem Onouha, during the European Under-21 Championships in 2007. Two years after the Onouha incident, on the eve of a European match between Partizan and Toulouse, a swarm of hooligans attacked French fan Brice Taton, beating him to death with baseball bats and iron bars.
In October 2010, Serbia's match in Italy was abandoned when visiting supporters began lighting flares and fireworks inside the stadium, burning a flag and charging through barriers. While many demanded that Serbia be banned from international competition, Uefa simply ordered them to play one match on a neutral ground, and fined them £107,000 - while ordering the Italian FA to pay £90,000 for inadequate safety procedures.
Michel Platini, the Uefa President, did at least warn Serbian fans about their behaviour, writing that unless European football's governing body "sees positive and clear signs that concrete measures are being taken within this calendar year, there is the serious risk of suspension for the national and club teams of both associations from Uefa competitions." However, instead of heeding Platini's warning, Serbian football bosses appointed Sinisa Mihailovic, a man who was banned by Uefa for racially abusing Arsenal's Patrick Vieira during his playing days, as national coach.
The attitude of the Serbian authorities is best demonstrated by their response to the Danny Rose racism outcry. Instead of accepting culpability, the Serbian FA said Rose caused the trouble by displaying "inappropriate, unsportsmanlike and vulgar manner towards the supporters". If anyone were in doubt as to the need for further action, these words must surely have made up their mind. Just like their government, which bans gay pride marches and continues to persecute religious minorities, Serbia's football overlords are happy to bury their heads in the sand.
But now enough is surely enough. Banning Serbia from international competition will be a headache for football's authorities, but the alternative poses even more problems. Almost every international football team now contains black players; if Fifa and Uefa don't act strongly, the events of last night will be repeated over and over again. One hates to think what would happen were Serbia drawn against an African team at the next World Cup; were they to be drawn against their equally irascible neighbours Croatia, God only knows the horror that would unfold.
A quarter of a century on from the darkest days of hooliganism, English football now presents a modern face to the world. Its stadiums are clean and modern, and its fans generally behave themselves when they travel abroad. The five-year ban imposed on English clubs by Uefa in 1985 served as a vital wake-up call. For the sake of the world game, Serbia's indiscretions have to be met with equally stern action.
Gareth Platt is a sub-editor with IBTimes UK