Serbia: Man waves 'gun' on camera during live TV report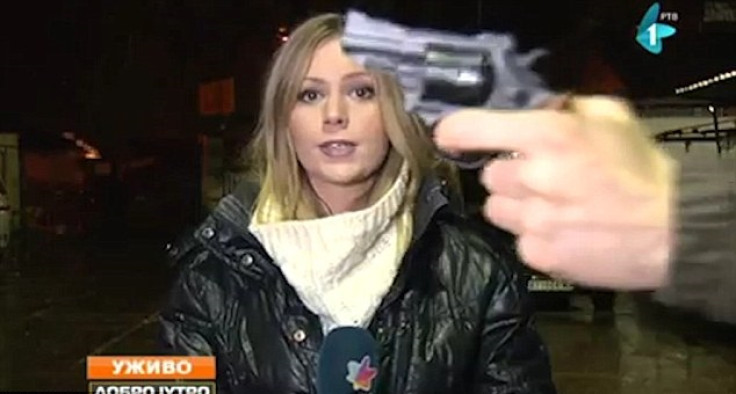 A man is on the run from police after he brandished a gun in front of a reporter on live television. The incident happened in Novi Sad, Serbia, where a crew for channel Radio Television of Vojvodina were broadcasting a report.
The TV crew were filming in a vegetable market in the country's second largest city, when they were approached by the man. The Serbian TV reporter, Tamara Bojic, was talking to the camera as the gun was waved in front of her face.
In the footage, Bojic's eyes widen and she shakes her head in dismay, but she continues speaking live on air, managing to maintain her composure. The man reportedly continued to threaten the crew before fleeing the scene. It is not clear if the gun was a real weapon.
The broadcaster has filed a complaint with the interior ministry. Serbian interior minister Nebojsa Stefanovic said: "This is something unacceptable and cannot be tolerated ... we will try to find out as soon as possible the person's identity."
The suspect is still on the run and his identity is not known.
The incident comes almost six months after US journalists Alison Parker, 24, and Adam Ward, 27, were shot and killed while filming a piece for channel WDBJ in Virginia on August 26, 2015. Former WDBJ reporter Vester Lee Flanagan, aka Bryce Williams, was later identified as the killer. He had filmed the attack and uploaded it to both his Facebook and Twitter accounts.
Flanagan's motive for the shootings appeared to be revenge after he was fired from his job at the station in 2013 due to 'volatile behaviour'. After trying to flee police in a car chase later the same day, he shot himself. He died from his wounds later that day.
© Copyright IBTimes 2023. All rights reserved.