The Serbian Football have banned two players for a year after their involvement in a fight following the under-21 Euro 2013 play-off match against England in Krusevac.
At the full-time whistle, following Connor Wickham's late goal which saw Stuart Pearce's side progress to the finals in Israel next summer, both sets of players became involved in a brawl amid allegations from Danny Rose that he had been racially abused by supporters.
Assistant boss Steve Wiggley, goalkeeping coach Martin Thomas and goalkeeper Jack Butland were all reportedly attacked during the fracas, with two Serbian players and two coaches severely punished for their involvement in an incident which brought shame on the reputation of European football.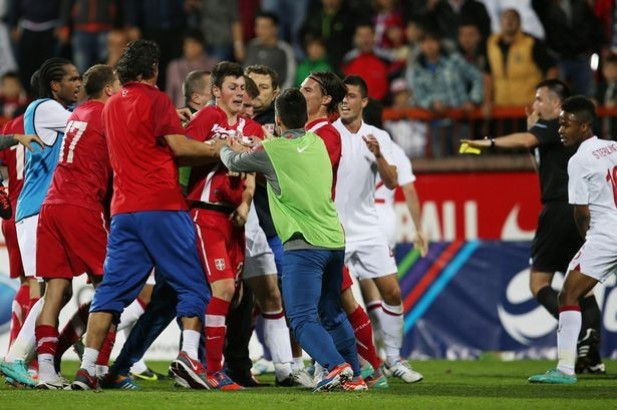 Youngster Nikola Ninkovic and Ognjen Mudrinski have both been banned for a year, while goalkeeping coach Srdjan Maksimovic and conditioning coach Andreja Milutinovic have been banned for two years.
"The players and members of the coaching staff of our young team were fined for ethics violations FS Serbia, thereby ruining the basic principles and the principles of fair play," a Serbian statement said.
"During the investigation, we came to the conclusion and evidence of participation in the incident, and some players and members of the Professional Staff of the England youth team.
Technical director Savo Milosevic added: "I suggest that in the future this or similar behavior will not be tolerated. As such it is not and will never be acceptable to all who are of Serbian FA."
Uefa charged Serbia and English Football Association's with failing to control their players and the hosts' supporters will face a further charge of racial abuse following an official complaint from the visitors.
Rose, 22, was alleged to have been pelted with stones and subject to monkey chants throughout the game, acts which Fifa vice-president Jim Boyce said Serbia should be banned from future international tournaments for.
"There's got to be very serious action taken, especially against the Serbian FA," he told BBC Radio Five Live.
"There may even be a situation where Serbia aren't allowed to play in one of the future competitions."
The Uefa Control and Disciplinary Body will debate the charges on 22 November.