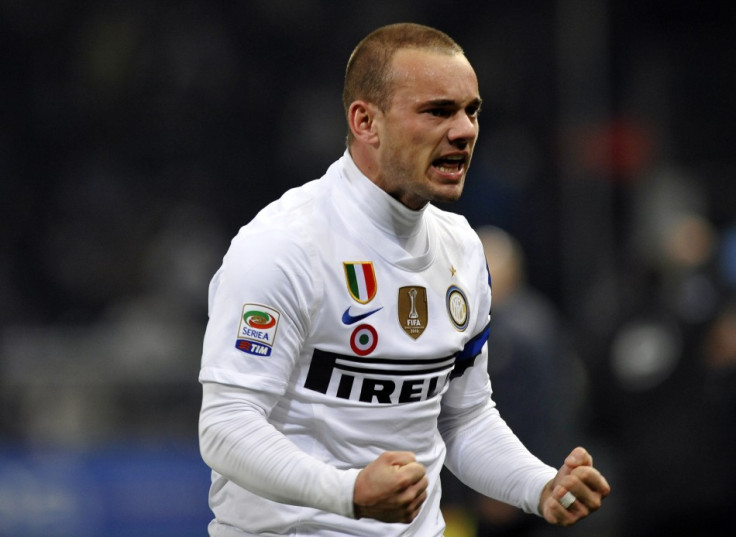 All the latest news ahead of the new Italian Serie A season. The strike that threatened the start of the season even further has been called off after a one year deal was reached. Wesley Sneijder has told Dutch reporters that he never wanted to leave Inter Milan this summer despite interest from Manchester United. Edinson Cavani has told his team mates that they can compete both at the top of Serie A as well as in the Champions League and Francesco Totti has said that he expects his team mates to give new boss Luis Enrique their full support ahead of the new season.
The 2011-12 Serie A season will commence on Friday with defending champions AC Milan hosting Lazio after the Italian Players Association and Lega Serie A signed temporary one year contract to halt the strike.
The one year deal and the agreement was ratified early this week and Friday's opener will kick off a season where AC Milan, Juventus, Inter Milan and Roma will hope for successful seasons.
Wesley Sneijder has said that he never wanted to leave Inter Milan this summer despite serious interest from Manchester United.
"If Inter aren't the best club in the world then they're second," he said to Dutch sport magazine Nusport.
"I wasn't unhappy about (United's interest), I would be mad to say otherwise. For a moment I was closer to joining United (than staying) but in the end nothing happened," he added.
Edinson Cavani is full of ambition for both his and Napoli's season this year. The Uruguayan forward believes that Napoli, who finished third in Serie A last season, can challenge both for the Serie A title as well as the Champions League.
"The sky is the limit for Napoli. Serie A, Champions League and Coppa Italia: we will do our utmost in all competitions," Cavani said to Il Corriere dello Sport.
"Last year's third place and the club's excellent work in the summer transfer window gives us the morale to fight right until the end. We have everything it takes to have a successful season. It's impossible not to do well with such fantastic fans. We are very optimistic," he continued.
Roma captain Francesco Totti has issued a rallying call to his Roma team mates ahead of the new Serie A season. He has told his Roma colleagues to back new coach Luis Enrique ahead of the new season if they want to challenge at the top of the league.
The game will be Enrique's first in charge and Totti wrote on his blog: "We must rally around the new coach," Totti told his team mates.
"We'll do it together and with one goal, Roma, of which I am just the biggest fan. This year I hope, as always, presents the fans with great satisfaction," he added.