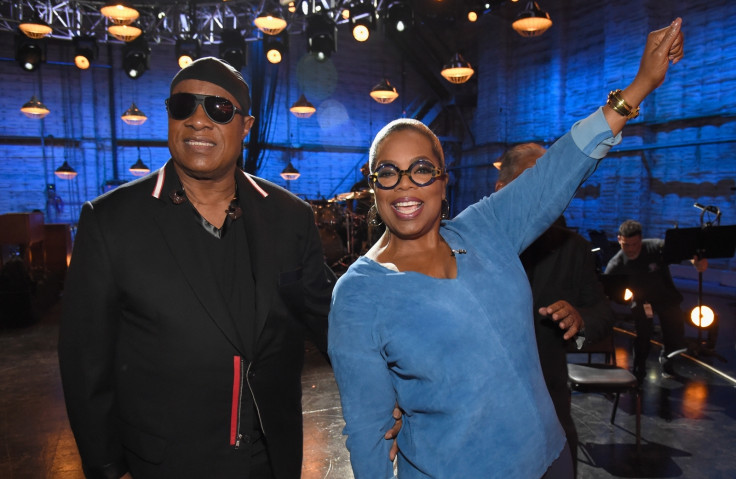 The stars came out to make a difference and help those affected by hurricanes Harvey and Irma by participating in the Hand in Hand hurricane relief telethon on 12 September (Tuesday). Stevie Wonder kicked off the event with a politically-flavoured message urging climate change deniers to open their eyes to what was happening around the world.
"Anyone who believes there's no such thing as global warming must be blind or unintelligent," the singer, who turned blind as an infant, said. He also urged callers to set aside prejudices and spread love by donating towards those affected by the hurricanes. "When love goes into action, it preferences no colour of skin, no ethnicity, no religious beliefs, no sexual preferences and no political persuasions... it just loves."
Beyonce also delivered a heart-felt speech in a video, which was aired during the telethon. The singer also mentioned racial tensions before pleading with people to help those less fortunate. "When you think it couldn't possibly get worse, natural disasters take precious life, do massive damage and forever change lives," she pointed out.
"Natural disasters don't discriminate. They don't see if you're an immigrant, black or white, Hispanic or Asian, Jewish or Muslim, wealthy or poor," she said before reminding viewers about the calamitous effects of climate change.
"The effects of climate change are playing out around the world every day. Just this past week, we've seen devastation from the monsoon in India, an 8.1 magnitude earthquake in Mexico and multiple catastrophic hurricanes. Irma alone has left a trail of death and destruction from the Caribbean to Florida to the Southern United States. We have to be prepared for what comes next."
Along with Wonder and Beyonce, celebrities like George Clooney, Leonardo Dicaprio, Matthew McConaughey, Oprah, Cher, Kelly Rowland, Hilary Duff, Reese Witherspoon, Nicole Kidman, Matt Lauer, Michael Strahan, Blake Shelton, Ryan Seacrest, Justin Timberlake, Tom Hanks, Rita Wilson, Julia Roberts, George Clooney, Gwen Stefani, Dennis Quaid, Stephen Colbert, Diddy and Justin Bieber also took part in Hand in Hand.
The event streamed live across the US on all major networks and reportedly raised over $44m (£33m).