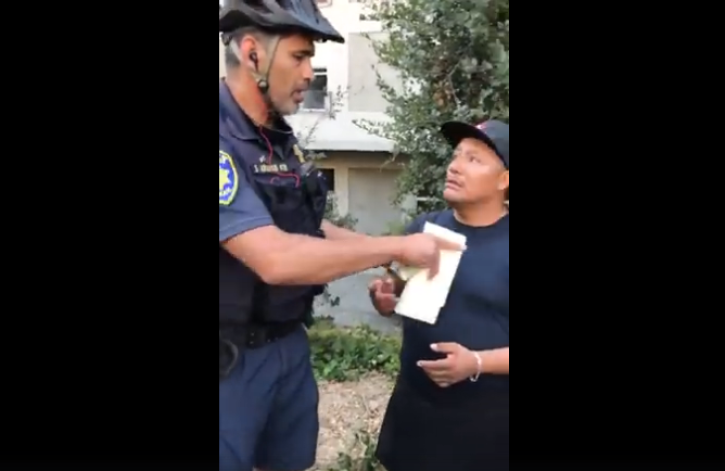 A video on social media showing a UC Berkeley campus officer citing a hot dog vendor for operating without a permit and removing around $60 (£45.52) from his wallet has gone viral.
The incident took place around 5.30pm local time (8.30pm BST) when football fans were leaving the Cal football game which was going on at the Memorial Stadium.
The clip was shot by a buyer named Martin Flores on Saturday afternoon (9 September), whose food purchase was interrupted by officer Sean Aranas who removed the money from the vendor's wallet.
The video has gained about 4.6 million views and has been shared more than 87,126 times.
Flores told the Los Angeles Times that he was buying a hot dog from the vendor, Juan's, cart when the officer approached.
Aranas allegedly asked for Juan's ID and when Juan looked through his wallet, the officer took it from his hands.
"That's when I thought something was not right," Flores said, who started recording the incident on his phone.
In the clip, Flores can be repeatedly heard saying "that's not right" as Aranas is seen pulling bills from the vendor's wallet.
The university announced on Monday that it would launch an investigation into the incident. A college official said the officer was following instructions to crack down on illegal vendors outside the campus event venues. It is a standard procedure to confiscate the proceeds and book them into evidence, the official added.
Cal vice-chancellor Scott Biddy in a statement said officers usually issue warnings before citing illegal vendors, but the college had "instructed our officers to monitor illegal vending outside our event venues".
"This action has been motivated at least in part by issues of public health, the interests of local small businesses, and even human trafficking," Biddy said in the statement as reported by Mercury News.
"In addition, while I cannot comment on the specifics of this particular case, our practice is to issue warnings before giving a citation. In a case such as this, it is typical to collect any suspected illegal funds and enter them into evidence."
According to Biddy, the money was seized as evidence of the "suspected proceeds of the violation".
"I have instructed University of California Police Department to open a complaint investigation. We will assign an investigator to look at both the procedural and management issues related to the incident. Please be assured that the investigation will be completed in a timely manner."
A petition filed to have the officer fired has received more than 23,716 signatures till now.
Flores has also launched a GoFundMe for Juan to cover his legal expenses and for the loss he faced. More than $49,086, against an initial goal of $10,000, has been collected so far.