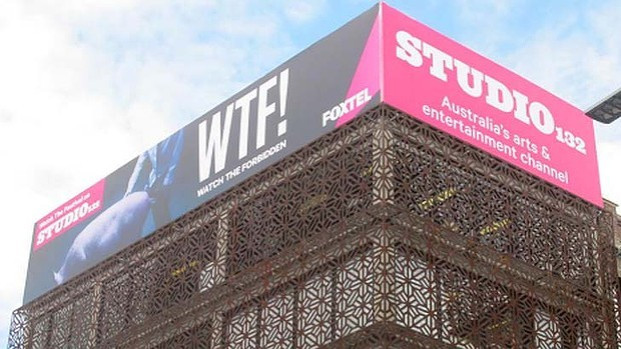 A giant billboard advert showing a man having sex with a pig has sparked uproar after appearing in a busy neighbourhood in Australia.
Pedestrians in a Sydney neighbourhood were shocked to see the image, next to a slogan which read WTF! Watch the Forbidden.
The shock advert was placed by Australian TV firm FoxTel on top of a building in the red light district of Kings Cross, clearly visible across the inner-city neighbourhood. The board was trimmed with garish pink to make it stand out even more.
Outraged viewers said children were corrupted by the advert for the channel and industry insiders branded it a cheap stunt by FoxTel, which is part-owned by media tycoon Rupert Murdoch.
The billboard was swiftly taken down.
A storm of criticism forced Foxtel to issue a grovelling apology. But a senior executive at the firm called the ad "art".
Studio channel manager Chris Keely said: "While art can sometimes be divisive or provocative, we certainly did not intend to upset anyone with this campaign.
"We apologise for any offence that was caused by the billboard."
The image was from a scene in a TV series created by UK media personality and professional miserablist Charlie Brooker.
In Black Mirror, the British prime minister is kidnapped and ordered to have intercourse with a pig in order to win his freedom.
Former Australian senate candidate Wendy Francis slammed the billboard.
She said: "I'm in my 50s. I'm big enough and ugly enough, but that's really distressing. My stomach actually turned," she said.
"The damage is already done. It's already up now, it's got media attention. This is exactly what these advertisers want. They know this is damaging children. They know that this is not normal behaviour. They know that it will create attention.
"They are not thinking of our society, of children being confronted by adult concepts. And these are adult concepts that are not even normal."
PR executive Tim Allerton said the decision to post the advert was a sad indictment of the advertising industry.
He told the Sydney Morning Herald: "It appears that campaigns like this show the agency has run out of ideas and is just looking for shock and PR value from a shocking image.
"Agencies are heading down a slippery slope as they go for more shocking images in desperate attempts to get our attention."