Transport for London has exposed London commuters to a thoughtless "thought of the day" joke that has been branded appalling and sexist after it mocked the woman who died in the women's suffrage campaign 100 years ago.
The comments on the whiteboard made a sly joke of the death of Emily Davison, who died under the hooves of the king's horse during the Suffragette campaign.
Spotted at Colliers Wood station in south-west London, the whiteboard reads: "100 years ago, suffragette Emily Davison died after throwing herself in front of the king's horse. History remembers her as being influential in giving women the right to vote. What history doesn't remember is her husband, who didn't get his tea that night."
Evelyn Clegg's post unleashed a slew of angry and disbelieving responses:
Tfl responded to Clegg's tweet and apologised. "Hi Evelyn, you're totally right this is unacceptable. I'll call the station to inform them about the complaints."
Clegg told the Evening Standard: "I'm pleased with their response but obviously the sign should never have been put up in the first place. It looks like they need to provide better training for their staff members in diversity and equality.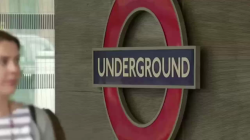 "I'm sure I'll be accused of not being able to take a joke but humour based on the death of a woman who was fighting for basic equality is completely inappropriate. Yesterday was a day for celebration of these brave women, and this sign is so disappointing in its recycling of lazy sexist jokes."
A TfL spokesman said: "[The] message was wrong and inappropriate in multiple ways.
"We apologise for the offence caused. The message has been removed.
"An investigation is under way into who thought this was a good idea and the appropriate action will be taken."