Shadow cabinet reshuffle: Hilary Benn and Andy Burnham offer to trade positions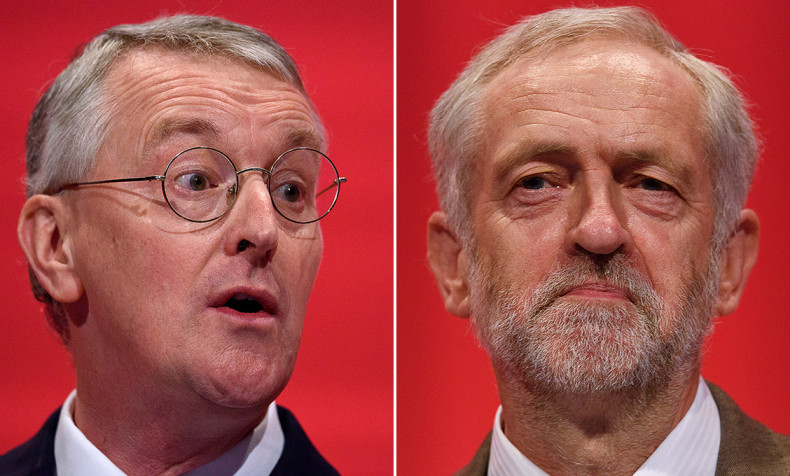 The UK's shadow foreign secretary, Hilary Benn and shadow home secretary, Andy Burnham have offered to trade positions just days before Labour leader Jeremy Corbyn's much-anticipated first reshuffle of his cabinet. After voting for Britain to bomb Islamic State (Isis) targets in Syria last month – something which Corbyn vehemently opposed – Benn is expected to be reassigned to a different post, with the Opposition leader reportedly keen to ensure that his senior team sees eye to eye on foreign and defence policy.
Corbyn is expected to hold talks with colleagues today (4 December) over the limited changes in what has been dubbed the "revenge reshuffle". According to a Times report, Burnham would agree to swap jobs with Benn as it would allow him to play a greater role in the EU Referendum, which is due to be held before the end of 2017. As a former home office minister, the position of shadow home secretary is seen as an ideal fit for Benn.
Corbyn is understood to want to retain Benn in a top position, with one source suggesting that he may not be part of the reorganisation. "We cannot have two tribes. If Hilary can stop that and also agree that [the debacle over Syria] won't happen again then, who knows, maybe he could end up in the same place," the source told the Times.
The position of the shadow defence secretary, Maria Eagle is also reported to be under scrutiny after she became one of 11 members of the shadow cabinet to vote in favour of British air strikes in Syria. Eagle also supports the renewal of Trident, which Corbyn strongly rejects. Despite her opposing views, Corbyn's leadership was marked by his pledge to let shadow cabinet members to articulate contrasting views.
Pointing out that a major reshuffle would run contrary to Corbyn's calls for debate within the Labour party, shadow culture secretary Michael Dugher – whose position is also under threat – said he does not foresee a major overhaul. "The reason I don't see it happening is because I think it would be inconsistent with what Jeremy has talked about since he got the leadership, which is about...having debate," he told BBC 5 Live's Pienaar Politics.
"These things are always discussed, you get sometimes over-enthusiastic aides sort of nudging a leader in one particular direction. There's always ambitious colleagues that spy that golden opportunity to be the shadow secretary of state for paper clips.
"They [Labour leaders] do try and hold the party together, they do recognise that the Labour party is a broad church, not a religious cult, that you need people of different backgrounds and try and get the best possible talents," Dugher said.