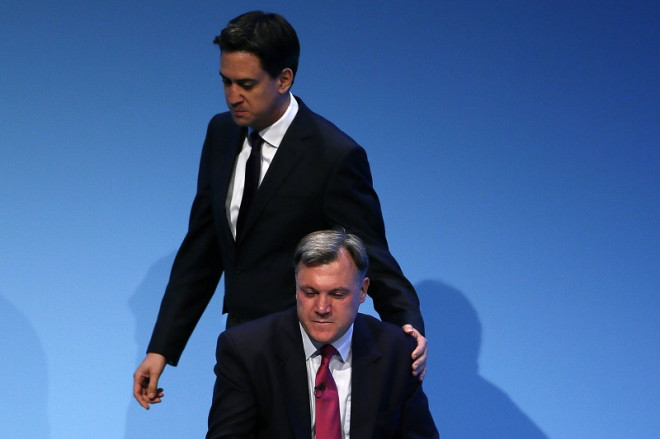 Speculation over the future of shadow chancellor Ed Balls has again emerged in Westminster amid Labour MPs' fears they are in danger of losing the crucial economic battle before the general election.
Until now all talk about Balls being reshuffled has been brushed aside with claims that he is by far the most formidable opponent of chancellor George Osborne and that to remove him would not only weaken Labour's attack but risk creating a damaging division at the top of the party.
But in the aftermath of the Budget, narrowing opinion polls and rumblings from backbenchers about a lack of an economic "narrative", the inevitable whispers have started again.
One senior Labour aide told IBTimes UK: "Balls is not untouchable. I can't see any reason why he should be immune from a reshuffle."
And the idea the shadow chancellor would refuse any other top job and choose to return to the backbenches from where he could harry Miliband were dismissed as out of date.
"There is not just the matter of not wanting to be seen as damaging Labour but he simply wouldn't get support for that sort of behaviour from anyone," said one source.
It was even suggested he could be shuffled back to his old education brief to take on Michael Gove.
Those chattering about Balls suggest there are other figures who could step into his shoes while also representing a break from the past which the shadow chancellor is so closely tied to. The name of shadow work and pensions secretary Rachel Reeves is usually near the top of the list.
The talk is, inevitably, coming from MPs who believe those who were close to former prime minister Gordon Brown have lost influence and could not cause Miliband pain if he sacked their leader.
There is little doubt that the political effect of Osborne's Budget has been precisely what he intended, to pile pressure on Labour and expose what he believes is a lack of a coherent economic policy.
And with all the economic figures pointing in the right direction, with another fall in inflation being the latest, Osborne believes the tide has finally turned in his favour and Miliband's successful "cost of living crisis" attack has run its course.
It was always the government's hope that the recovery would kick in in time for the general election but they underestimated the depth of the crisis and have been vulnerable to Miliband's attack that ordinary working people are not feeling any better off.
But there are now mounting calls for Miliband and Balls to move on to a more forward looking agenda and start mapping out a genuinely alternative economic vision, giving voters a clear idea of exactly how a Labour-run economy would work for them.
None of this is helped by the fact there are competing voices at the top of the party urging either a softly-softly approach to the election in hope of securing the core vote and those demanding something more adventurous.
There is a huge trap here, of course. No opposition leader wants to reveal all his policies too far ahead of a general election campaign and there is sympathy for that view from Labour MPs.
It is also clearly the case that a lot of the pressure is coming from Tory supporters, including sections of the media, who have been looking for a stick with which to beat Miliband and believe they have finally got one.
It is also the case that the whispering about Balls is probably borne out of a panic reaction to the Budget.
But that does not alter the fact that talk about his position, and the pressure for a decisive, radical summer reshuffle to present a new face for the election, is back.