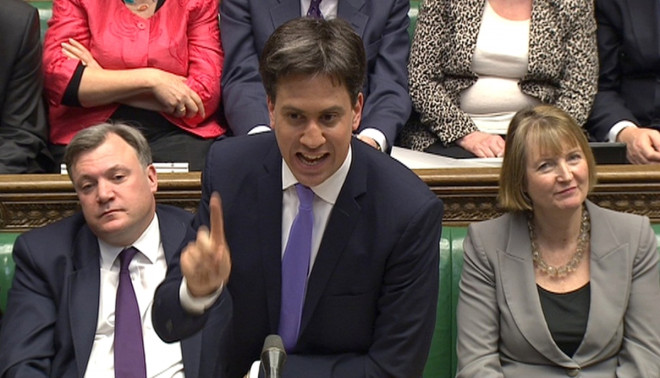 Labour used to argue that the UK's economy was "flat-lining". After official figures began to prove them wrong, Balls and Miliband dropped the attack line. The duo turned to the working men and women of Britain. What was happening to them after the financial crisis of 2008? With total pay lagging behind both CPI and RPI inflation as well as a surge in food bank use, Labour adopted the "cost of living crisis" riff.
It worked for a bit. In fact, the government couldn't do anything right. A business boosted its workforce, the cabinet unveiled a popular reform or two, but who cared? What about the "cost of living crisis" Labour would argue.
But the go-to counter argument, the sort of line that could help a shadow minister get out of a tricky TV interview, came to an end after the Office for National Statistics (ONS) revealed that wages were considerably catching up with the cost of goods.
The research body found that total pay was rising at a rate of 1.4% per year, below the CPI inflation rate of 1.9%. The figures looked even bleaker for Labour's "cost of living crisis" narrative in the private sector as wages rose at a rate of 1.6%.
The death warrant was officially filed after George Osborne's "makers, doers and savers" budget. Miliband, dumfounded after being hit with the Coalition Government's "pension revolution", turned to an old ally and deployed a variation of the "cost of living crisis" attack.
"The chancellor spoke for nearly an hour but he did not mention one central fact – the working people of Britain are worse off under the Tories," Miliband blasted.
"Living standards down. Month after month, year after year."
But nothing happened, the "cost of living" hammer had transformed into a plastic fairground mallet. The Chancellor and Prime Minister laughed mercilessly in Miliband's face. Osborne may have been rattling on for an hour, but it seemed the Labour Party leader hadn't taken any of it in. With wages catching up with the cost living, Miliband was left unarmed and humiliated.
The Labour Party must now turn to youth joblessness, underemployment and worker productivity if it wants to take on the Coalition. There are still more than 900,000 16 to 24-year-olds out of work in the UK, this means the country's future workforce is sitting at home, in a dole queue or haplessly searching for a job.
From a frank economic perspective, the country cannot afford a lost generation of unskilled and underdeveloped employees. It also means hundreds of thousands of youngsters are humiliated and demoralised by joblessness. Something must be done.
Maybe a "youth tax credit" to incentivise businesses to hire 16 to 24-year-olds or maybe an extension of the government's National Insurance Contributions (NICs) exemption for young workers. There is room here for the opposition to attack.
Likewise, as the ONS recently revised that there were more than 500,000 workers on zero-hours contrast last year, underemployment has become a serious issue for Britons. People need stability in their life, it's not healthy for them to be at the beckon call of their bosses. Why isn't Miliband saying more about this phenomenon? More about the casualisation of the UK's workforce.
The country also faces a "productivity crisis". For instance, in 2012 output per hour in Britain was a whopping 21% below the average in rest of the G7 economies. This isn't just a problem, it's embarrassing.
So far Miliband hasn't announced a policy that could tackle the issue. He previously mooted a Singapore-style productivity and innovation credit, but the idea hasn't re-emerged. Maybe it's just too "wonkish"? Maybe Labour's economic team have run out of ideas?