Shadow Chancellor John McDonnell to back George Osborne's budget responsibility plans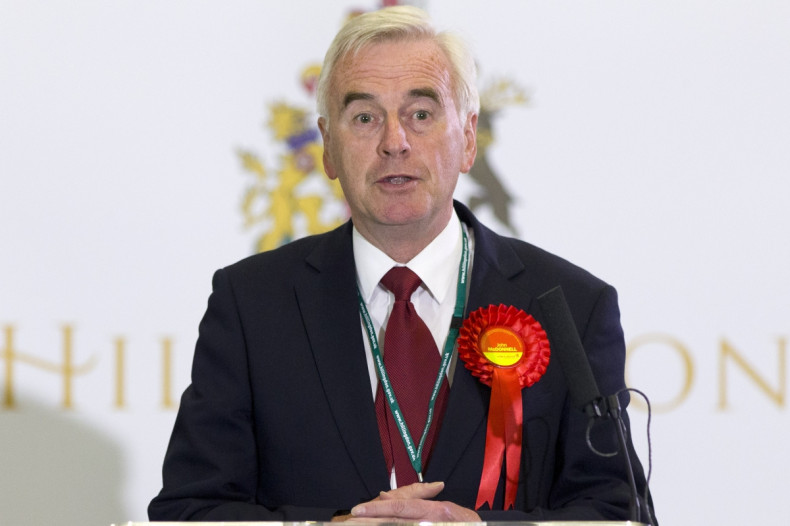 The UK shadow chancellor has said he will back George Osborne's plans for "budget responsibility". John McDonnell is set to deliver his message at the Labour Party conference in Brighton and admit the country must live within its means, but will insist Labour has no plans to back the austerity measures opposed on the British public, instead choosing to stimulate the economy by borrowing to invest in key infrastructure projects.
The MP for Hayes and Harlington told The Guardian that Labour would be looking to build on its tarnished image on economic credibility, and claimed the party under new leader Jeremy Corbyn would not be "deficit deniers". McDonnell said he would support the chancellor's budget charter "on the basis we are going to want to balance the books". He insisted Labour would live within its means and "tackle the deficit".
Osborne's measures commit the government to deliver an overall budget surplus for the UK by 2019 or 2020, more than a decade after the economic downturn of 2008, and has brought criticism from commentators who have pegged the austerity policies introduced by the Conservative government as too severe.
The shadow chancellor said the party would look at ways that the majority of the UK would not have to pay for the mistakes made that led to the economic crisis and that he would not allow "middle or low earners or those on benefit to have to pay for the crisis".
Corbyn is expected to go against party wishes and issue an apology for the role his party played in convincing the armed forces and the British public to back the Iraq War in 2003. He is expected to bring up the thorny issue of whether the government's controversial and expensive plans to renew its nuclear Trident submarine initiative should go ahead.
Corbyn will also give the go ahead for a free vote within the party on whether to ramp up Britain's involvement in air strikes against Islamic State (Isis) targets in Iraq and Syria. The Labour Party conference will take place from tomorrow (27 September) to Wednesday 30 September.