The parents of Shafilea Ahmed have been found guilty of murdering the 17-year-old by suffocating her with a plastic bag for being too "Western".
Iftikhar, 52, and Faranza Ahmed, 49, were sentenced to life in prison, with a minimum term of 25 years for the murder. They denied the charge.
The trial at Chester crown court had heard testimony from Shafilea's sister Alesha who said she and her three siblings witnessed her parents carry out the murder in their Warrington home in September 2003 before dumping the body. The girl's remains were found on a bank of the river Kent in Sedgwick, Cumbria in February 2004.
The jury's decision marks the end of a tumultuous court case that revealed the violent fallout of Shafilea's defiance of her parents wish for an arranged marriage to an older man in Pakistan.
Prosecution barrister Henry Riding said the parents had worked together to kill their daughter, who they believed had shamed them with her adoption of Western ideas.
Alesha had told the court how Farzana told her husband "just finish it here" in Urdu as they clashed with Shafilea, who was in a weakened state having drunk bleach in a suicide bid six months before her murder.
Her parents held her down and forced a plastic carrier bag into her mouth and covered her nose. Alesha said she realised "that was it" when her sister's legs stopped kicking.
She said that she saw her father continue to beat Shafilea's body while Faranza gathered up tape, sheets and plastic bags to wrap the corpse.
Passing sentence, the judge, Mr Justice Roderick Evans, said: "What was it that brought you two, her parents, the people who had given her life, to the point of killing her?
"You chose to bring up your family in Warrington but although you lived in Warrington your social and cultural attitudes were those of rural Pakistan and it was those which you imposed upon your children."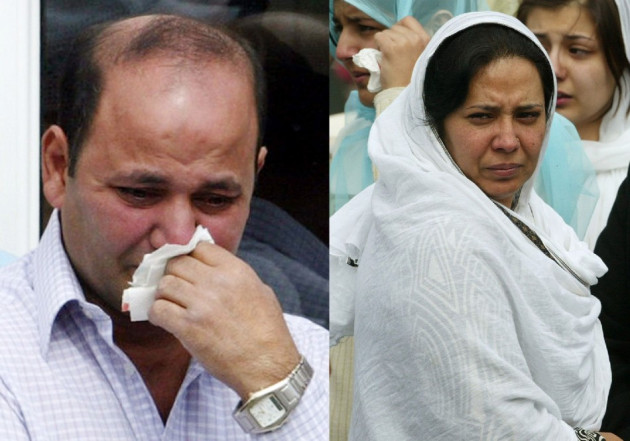 The court heard how Shafilea had first started to defy her parents' traditional wishes when she was 10 and they she would often go to school crying, claiming her mother would beat her and throw things at her.
When she started seeing boys, her parents would try to keep her at home. Social services were called on numerous occasions but her file was closed in 2002.
She ran away with her boyfriend in 2003, telling council officers that she required emergency accommodation to escape her parents trying to force her into an arranged marriage.
In May 2003, she went to hospital with damage to her throat after drinking bleach.
Evans said Shafilea's parents "could not tolerate the life that Shafilea wanted to live".
"You killed one daughter, but you have blighted the lives of your remaining children. Alesha escaped but she is unlikely to be able to avoid the legacy of her upbringing."
Justice Shafilea deserves
Faranza had repeatedlty denied any involvement in her daughter's death, at one point changing her defence statement to claim that she ran away from home after seeing her husband beat Shfilea in September 2003.
She claimed that when she asked Iftikhar about Shafilea she was told: "If you care for your dear life and that of your children, don't ever ask me this again."
However the jury dismissed her claims, deciding that the pair committed the murder together. When the verdict was read out, Farzans wept loudly, while Iftikhar showed little emotion.
Speaking after the verdict, Shafilea's best friend, Melissa Powner, said: "We have waited for this day for many years. We have watched as her killers roamed free. Yet today we heard those important words - words that have finally brought our friend the justice she deserves.
"Shafilea was a caring, high spirited and brave young lady, who even in her toughest times always strived to remain positive and hopeful that one day she too would be able to live the peaceful and happy life that she deserved."