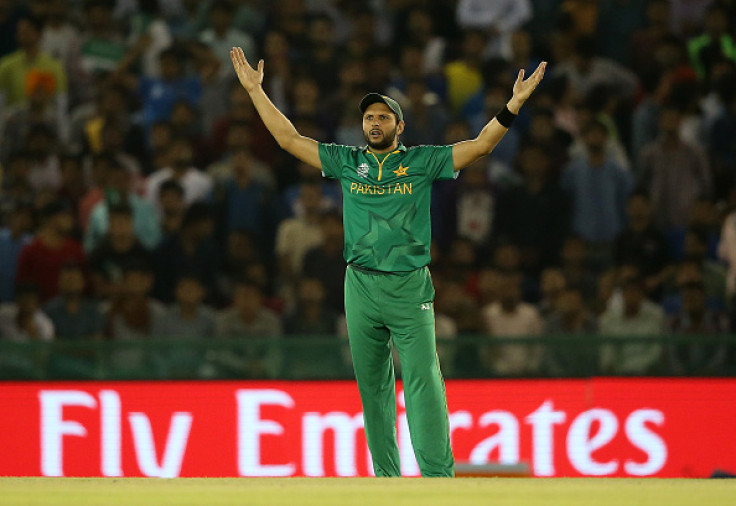 Pakistani cricket superstar Shahid Afridi has stayed mum on retirement rumours but has hinted that he will speak with the Pakistan Cricket Board (PCB) on making a graceful exit from the world stage. The former Pakistan captain said that contrary to reports there was no pressure from the board to retire but noted that if he says farewell he would want it to be on graceful terms.
There has been rumours floating around that the selectors might include Afridi in the Twenty20 squad for the upcoming series which see's West Indies play Pakistan in the United Arab Emirates. This would ensure that the all-rounder gets a proper send-off at Dubai.
"I have put no pressure on the Board nor they on me but whatever happens it will be good and set new precedents. I have always noted that in Pakistan there is no tradition of players retiring gracefully, even the big names. Every player wants to go out on a high and I am no different", said Afridi, as quoted by Indian Express.
The 36-year-old who has played 27 Test matches, 398 One Day Internationals and 98 T20 Internationals in a career spanning 20 years has spoken to the head of the selection committee, former Pakistan captain Inzamam-ul-Haq on his future, but has not confirmed on whether he will retire post the West Indies series.
"Players must exit respectfully since the ones who serve the country with distinction deserve honour. I have had a discussion with Inzi Bhai (Inzamam-ul-Haq) who is an elder to me and we will do what is beneficial to both Pakistan cricket and my own self", the former Pakistan captain added.
Afridi, who was captain of the Pakistan T20 squad, stepped down after their disastrous outing in the 2016 ICC T20 World Cup and has since been ignored by the selectors. He was not part of the country's T20 squad for the game against England while there is currently no indication whether he will play against the West Indies.