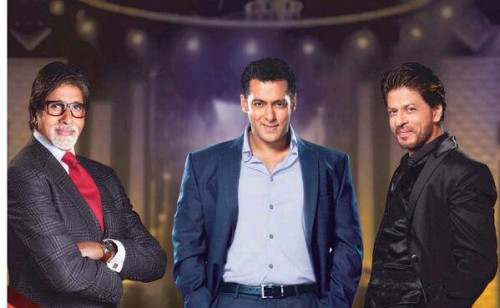 Even though Shahrukh Khan seems to be recuperating well post an accident on the sets of his new film Happy New Year where a glass door fell on him, it has brought to light how some of the major Bollywood film-stars, who have millions riding on them, have often suffered serious on-set injuries.
Here's a roundup of the worst injuries ever suffered by top Bollywood stars, as per a DNA report:
Amitabh Bachchan
A freak accident on the sets of Bachchan's 1983 film Coolie brought the whole nation to a standstill. While filming a fight scene with Puneet Issar, Amitabh was required to fall on a table and then roll on the ground. As he jumped, the table's corner hit him in the abdomen and ruptured his intestine leading to heavy blood loss. Bachchan was at the peak of his career when this life-threatening incident occurred.
Shahrukh Khan
SRK, owing to his high energy and passion, is no stranger to injuries incurred during film shoots. The actor suffered a major shoulder injury while shooting for Dulha Mil Gaya in 2009. He also hurt his back while he was shooting for Shakti. While filming an action sequence for Don 2, SRK had to use cables. The stunt went horribly wrong when the actor fell down and injured his back (again) and elbow.
Hrithik Roshan
The talented on screen superhero has had several near-death experiences on his film sets. During the shooting of Krrish, Hrithik survived a 50-foot fall when a wire he was dangling from snapped. Luckily a canopy broke his fall. Last year, the light-eyed actor suffered a head injury while shooting for Bang-Bang. The actor continued to shoot despite severe headache, but had to be hospitalised after being diagnosed with subdural hematoma (blood clot). The actor underwent a brain surgery in July 2013 for removal of the clot.
Aamir Khan
Aamir, known to be extremely thorough with everything that he undertakes, pulled a hamstring while shooting for Ghajini. He had to lift and throw a 100 kg man but despite rehearsals with trainers, the actor injured himself. It worsened when Aamir refused to take rest and continued filming which eventually led to a three-week delay of the shoot.
Salman Khan
While doing some of the heavy duty action scenes for his 2009 film Wanted, the actor tore a ligament in his arm. The injury got more intense during the shooting of Dabangg due to which the film's schedule was postponed for several days.