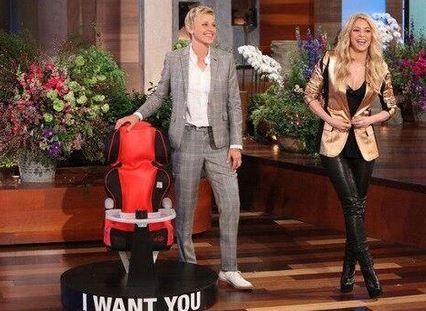 Two-time Grammy Award-winning singer Shakira appeared on the Ellen DeGeneres Show, as part of a special episode celebrating Mother's Day. The glamorous Colombian star opened up on life after pregnancy; the 36-year-old is the mother of a son with FC Barcelona and Spain footballer Gerard Pique.
Shakira, who is also a judge on reality television show The Voice as well as UNICEF Goodwill Ambassador, gave birth to her son, Milan Pique Mebarak, in January.
"Well, you know delivering a baby is not as idyllic as people make it seem. Don't expect that he is going to be rosy cheeks, cherub when he is born. Actually when I saw mine, I was like, oh my god. He is purple and wrinkled. What is this? So at first it's hard to deal with a lot of the things that you have to deal with," the singer said candidly.
The signer also admitted to insecurities concerning changes to her body.
"Looking at your new image in the mirror. I looked like a Shar-Pei when I first delivered. I was like, oh my god. Am I ever going to be sexy again? Is my man ever going to feel attracted to me again the way he used to be, you know. All of these things that you deal with and the fears that come to you," she explained.
Shakira and Pique met when they were featured together in a music video for the theme song for the 2010 FIFA World Cup in South Africa. They confirmed their relationship in March 2011, with a Facebook post and photograph of the two.
"He's so good looking...He better be attracted to me because he is something .. He is such a good daddy," Shakira gushed about her partner.
Check out a video of the Mother's Day interview of Shakira on the Ellen DeGeneres Show
[Video Courtesy: TheEllenShow]