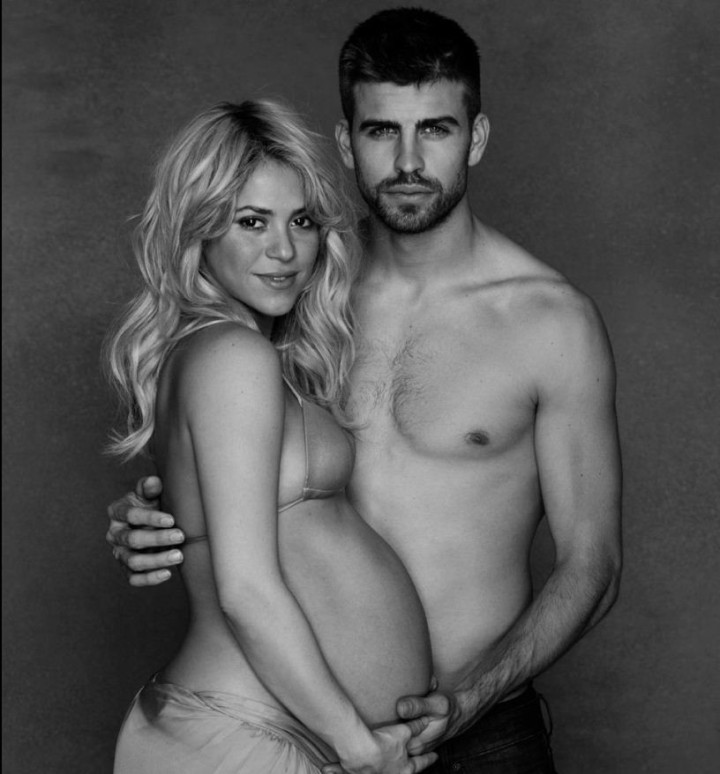 Pregnant Colombian singer Shakira, who is expecting her first child with Barcelona defender Gerard Piqué, has posed for an intimate photograph showing off her baby bump.
The image, posted on Twitter, shows Piqué wrapping his hands around his girlfriend and their first child together.
"We'd like to celebrate the imminent birth of our first child with all of you. #babyshower," Shakira tweeted. The post included a link to an online baby shower, hosted by UNICEF with the purpose of raising awareness on child survival.
Fans of the singer and the Spanish international can purchase gifts ranging from mosquito nets, polio vaccine and a weighing scale to therapeutic food that helps malnourished children. To purchase these gifts, interested parties can log on to a secure UNICEF Web page.
"Every expectant parent around the world shares all the same hopes and dreams for their children that we do," Shakira, who is a UNICEF Goodwill Ambassador, said in a statement.
"Yet many don't share the same opportunities. Together we know we can change that."
The 35-year-old singer recently attended the presentation of a book - Al Viento y al Azar (The Wind and Random) - by her father, writer and journalist William Mebarak Chadid, in Barcelona. During the event, she admitted to taking parenthood advice from her father.
"But since I can't predict if my little one will come with more advantages or more burdens into this world, and I'm on the threshold of motherhood, I hope the child takes an example from its grandpa, because my dad is a person who always helps settle those little conflicts and that's one reason I'm so proud of him," Shakira said.
Shakira and Pique met when he featured in a music video for the theme song for the 2010 FIFA World Cup in South Africa. The Spanish international, who is 10 years younger than his girlfriend, confirmed their relationship in March 2011, with a Facebook post and photograph of the two. Rumours the singer was pregnant followed about a year later (in June) and were strengthened after the two were seen shopping for maternity clothes in Miami.
The Hips Don't Lie singer previously dated Antonio de La Rua, the son of former Argentine president Fernando de la Rua, for 11 years.